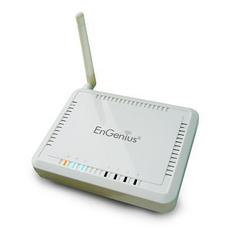 We have been impressed with the performance and unique features of EnGenius' ESR-1221 EXT long range wireless home router; it will give us the ability to immediately and remotely resolve home networking issues, which in turn will enhance our customer service and increase customer loyalty. Reducing the need for on-site technical support also will help us reduce costs
Costa Mesa, CA (PRWEB) September 16, 2009
EnGenius Technologies, manufacturer of long range, powerful wireless products for business and home environments announced today that its ESR-1221 EXT wireless router will be bundled into the home network service package offered by ISP subsidiaries of SureWest Communications (NASDAQ: SURW). SureWest offers its Internet customers a solution for setting up a home wireless network and has selected the high-powered ESR-1221 EXT of EnGenius.
SureWest chose the ESR-1221 EXT in part because of its familiarity with EnGenius, a firm with an award-winning reputation for making reliable, long range wireless products. The ESR-1221 EXT includes many of EnGenius' standard features to enhance wireless performance. However, the ESR-1221 EXT long range wireless router also operates with the high-powered 802.11g technology at 200MW. A typical router only operates at 50MW. This extra power boosts performance and wireless coverage. For SureWest customers, this unique high-powered capability is expected to translate into value-added home networking benefits.
The ESR-1221 EXT features include:

High-powered 200MW - guarantees a robust signal over longer distances
QoS technology - orders bandwidth priority for high-demand transmissions
Detachable antenna - can be upgraded to higher-gain antennas, if desired
Wireless repeater feature - extends wireless coverage to reach "dead-spots"
"SureWest chose our product because it provides a very strong signal, allowing customers seeking connectivity from longer distances, whether in basements or over large properties, to have reliable coverage anywhere they need it. We are able to customize our product to fit SureWest's product requirements and, as a result, we expect to help enhance their customers' overall wireless networking experience," remarks Roger Chien, product manager of EnGenius Technologies.
SureWest Communications home networking customers will receive a highly customized ESR-1221 EXT wireless router with enhanced remote capabilities specified by SureWest and implemented by EnGenius engineers. Due to this special build, SureWest's technicians will be able to remotely manage, install and service many aspects of the customer's wireless home network through the ESR-1221 EXT wireless router from their network operating center.
"We have been impressed with the performance and unique features of EnGenius' ESR-1221 EXT long range wireless home router; it will give us the ability to immediately and remotely resolve home networking issues, which in turn will enhance our customer service and increase customer loyalty. Reducing the need for on-site technical support also will help us reduce costs," said Bill DeMuth, SureWest's vice president and chief technology officer.
EnGenius is an award-winning manufacturer of many different wireless communication devices. Thus, they had the experience and skills to meet SureWest's specialized needs. SureWest now expects to offer all its customers, no matter their technical proficiency, the additional peace-of-mind of having direct and immediate access to technical assistance. And, as SureWest's needs change, the EnGenius engineers can reassess the build and adjust the technology. Together, EnGenius and SureWest will provide consistently reliable home wireless networking setup, management and service within the various SureWest regions.
For additional information about the ESR-1221 EXT or other EnGenius products, please visit http://www.EnGeniustech.com. For more information about SureWest's wireless networking solutions, please visit http://www.surewest.com/internet/home_networking.php, click on "Check for Service" and use example address 4901 Thor Way, 95608.
About EnGenius Technologies
EnGenius Technologies is a global technology innovator specializing in long-range telephone and data communications. The company pioneered the "Affordable Long-Range Wireless" product category. Its award winning, long-range devices consistently outperform competitors' deployment coverage. Established in 1999, EnGenius Technologies, Inc. is a wholly-owned subsidiary of Senao Networks, a Taiwan RF communications manufacturing company.
About SureWest Communications
SureWest Communications (http://www.surewest.com) is one of the nation's leading integrated communications providers and is the bandwidth leader in the markets it serves. Headquartered in Northern California for more than 90 years, the company expanded into the Kansas City region in February 2008 with the acquisition of Everest Broadband, Inc. and offers bundled residential and commercial services that include IP-based digital and high-definition television, high-speed Internet, Voice over IP, and local and long distance telephone. SureWest was the nation's first provider to launch residential HDTV over an IP network and offers one of the nation's fastest symmetrical Internet services with speeds of up to 50 Mbps in each direction on its fiber-to-the-home network.
# # #