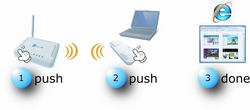 To begin, we listened to the complaints and needs of the home wireless user. Simply stated, they wanted their home wifi experience to work as seamlessly as that in hotels, cafes and other public venues. Little do they know that these public wifi networks are, in many cases, supported by our products and technological expertise. Now we are offering this same technology directly to them
Costa Mesa, CA (PRWEB) October 7, 2009
EnGenius Technologies Inc., an innovator and leader in wifi business technology for over ten years, has launched a second set of wifi products for the home user - the ESR-9753 and EUB-9703. Capitalizing on their years of experience in the commercial wireless arena, EnGenius engineers have created yet another home wireless router, the ESR-9753, and a complimentary USB wireless adapter, the EUB-9703, which can efficiently handle the demands and distances of today's home wireless network.
"To begin, we listened to the complaints and needs of the home wireless user. Simply stated, they wanted their home wifi experience to work as seamlessly as that in hotels, cafes and other public venues. Little do they know that these public wifi networks are, in many cases, supported by our products and technological expertise. Now we are offering this same technology directly to them," explains Eric Deming, Home Networking Product Manager.
The ESR-9753 wireless n router uses 802.11n draft standard technology and operates at up to 150mbps - 3x faster than the older 802.11g technology. In addition, the ESR-9753 uses QoS (Quality of Service) technology to better prioritize the data transmitted within each wireless session. As a result, the highest priority transmitted data is not slowed-down by other transmitted data on the network. For the home user, this translates into, uninterrupted wireless downloading, gaming, VoIP and multimedia experiences.
Similarly, the EUB-9703 wireless adapter operates with the latest USB technology to comparably handle heavy data loads to and from a wireless laptop or desktop. At 150mpbs, the EUB-9703 works faster than the older standards; also using QoS technology to prioritize the flow of wireless traffic to the workstation.
"Not only have our engineers included the latest technology to efficiently and quickly transfer data throughout the home wifi network; but they have also incorporated features from our award-winning long-distance commercial wireless routers to expand the wifi coverage of the home network," adds Deming.
The ESR-9753 and EUB-9703 were specifically designed to be adaptable and operational from any point in the home; thereby, virtually eliminating notorious dead-spots. For example, the ESR-9753 has a high-gain antenna that, if necessary, is detachable and upgradable for greater range or highly sensitive directional range. Additionally, the router has a wireless repeater mode; which when used, can extend the wireless home network range to areas that the average router could not reach.
In addition to streamlined efficiency and strength, Engenius added several unique features that make the ESR-9753 and EUB-9703 user-friendly and highly economical. These include:

Push Button Technology: The router and adapter will securely connect to each other via a simple push of a button. This eliminates complicated setups with cryptic codes and technical terms.
Multiple SSIDs: The router can be configured to allow a separate limited-access "guest" wifi network.
Practical Price: As the manufacturer, EnGenius is able to offer these products at very affordable prices.
Green Technology: The router has the ability to shut-down unused connections. This increases the routers life expectancy, increases its efficiency and cuts-down on the cost of operation.
With the release of both the ESR-9753 and EUB-9703, EnGenius Technologies demonstrates, once again, that they can apply their knowledge of wireless product innovation to the growing needs of the consumer to produce powerful, easy-to-use and affordable home wireless network solutions. The ESR-9753 and EUB-9703 include all the essential features and latest break-through technology for an efficient, long-range and streamlined wireless home network.
The two latest EnGenius consumer products are available at select value added distributors such as ASI and Synnex, direct marketers, e-commerce sites such as Buy.com, ProVantage, and Tiger Direct, and value-added resellers at a suggested retail price of $39.99 and $19.99 respectively.
For additional information about the ESR-9753 and EUB-9703 or other EnGenius products, please visit http://www.EnGeniustech.com.
About EnGenius Technologies
EnGenius Technologies is a global technology innovator specializing in long-range telephone and data communications. The company pioneered the "Affordable Long-Range Wireless" product category. Its award winning, long-range devices consistently outperform competitors' deployment coverage. Established in 1999, EnGenius Technologies, Inc. is a wholly-owned subsidiary of Senao Networks, a Taiwan RF communications manufacturing company.
###