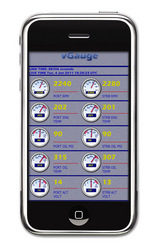 "We have created a direct link between vessel data and web browser enabled devices such as smart phones"
Brookings, OR (PRWEB) February 25, 2011
Chetco Digital Instruments has introduced a new line of "Plug-and-Play" wireless browser based adapters which directly interface to NMEA 2000™ and NMEA 0183 compatible networks and provide viewing via common Web Browser enabled devices. SeaSmart.Net™ interface modules consist of a NMEA 2000™ to Ethernet/WiFi gateway with full function built in web server. These small self-powered modules allow vessel operators to view live NMEA 2000™, NMEA 0183, and analog engine information via any onboard PC display, iPad™, iPhone™, Android™, Blackberry™ or other browser compatible devices.
Available in wired Ethernet or wireless 802.11 b/g formats, the adapters can be purchased stand alone or integrated into the SeaGauge™ line of digital gauges and switch units. SeaSmart.Net™ allows digital, analog and switch status data streaming over the NMEA 2000™ bus to be funneled to either a AD HOC or Infrastructure network. All modules have a built in web server with support for CGI and AJAX allowing users to setup a wireless NMEA 2000™ network in minutes without special IT expertise. The Open Source HTML based user interface eliminates additional license fees or app downloads while providing a cooperative environment for creating dynamic web pages to view and analyze vessel data.
The SeaSmart.Net™ interface modules can be connected to any standard router for broadcast over the onboard Intra-net or when public Internet access is available data can be retrieved via the Internet from anywhere in the world. SeaSmart.Net adapters do not require a separate server and come with default Web Pages preloaded and configured so setup is as simple as connect and view with browser enabled devices such as Smart phones and Laptops. "We have created a direct link between vessel data and web browser enabled devices such as smart phones" states Joe Burke CTO. "By utilizing existing Open Source Web technologies and adapting them to everyday marine and automotive applications, customers now have an expansive library of monitoring options" Burke continued. "Chetco Digital Instruments strives to bring open source "Plug and Play" technologies to all engine performance monitoring applications" added Steve James the company President.
SeaSmart.Net™ modules can be used stand-alone or with the companies SeaGauge Remote™ Sensor Unit which connects directly to engine senders for up to three engines in one unit. Functions include tachometers, fuel flow, temperatures, boost pressures, oil pressure, exhaust gas temperatures, charging voltage, amps, fuel levels, trim, and 12 indicator lights showing open or closed circuits. SeaGauge™ converts up to 16 analog signals into NMEA 0183/NMEA 2000 format for broadcast to remote displays or PC over serial or USB interfaces. Built-in user defined sensor calibrations allow the unit to be used with a wide variety of existing engine combinations.
"Combining NMEA 2000™ with the SeaGauge Remote™ unit, and then adding wireless web server technology provides a very cost effective solution for converting engine packages to full color digital instrumentation with a wide range of viewing options" said Steve James, President of Chetco Digital. "Other NMEA 2000™ instrument options only provide a few functions with multiple devices required to form a complete system, then expertise in IT, additional software and license fee's" he added. Single function modules require a separate network connection which can add up at $50 per node. The SeaGauge Remote™ unit provides up to 16 sensor inputs from multiple engines in one unit, saving hundreds or thousands of dollars. The company's vDash software is supplied free with any SeaGauge remote device and no additional license fee is required for multiple users.
SeaSmart.Net™ allows customized web pages to be designed for any application. Examples are available for single and dual engine packages, fluid tanks, battery banks, and weather station data. Support for JavaScript, CGI, and AJAX are all included creating dynamic web pages that update in real-time from received PGN's. Any device that generates compatible NMEA 2000 or NMEA 0183 data can be viewed by the locally hosted web pages. Live demonstrations are available at http://www.SeaSmart.net. Users are free to create their own display interfaces using the Open Source HTML protocol. In addition to on-board Intranet support, SeaSmart.Net™ can also push data directly to Internet servers using HPP POST protocols which eliminate the need to set up complicated port translation and other fire walled security measures.
Pricing starts at $395 for the wired base unit when purchased with a SeaGauge Remote, SeaSwitch Remote or SeaPC package. No additional licenses or software cost is required. Other configurations and network options are also available.
For more information on SeaSmart.Net™, SeaGauge™, and other Chetco Digital Instruments products, and where to buy, see our web site at http://www.digitalmarinegauges.com, email sales@chetcodigital.com or call 541 469 4783.
Contact
Joe Burke
Phone: 541 469 4783
E-Mail: sales(at)chetcodigital(dot)com
Web: http://www.seasmart.com/press
Box 5359 Brookings, OR 97415
Page 2 of 2
###