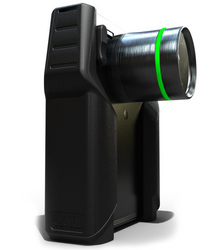 Pixels, Audio, Video and Infrastructure
Stavanger, Norway (PRWEB) October 13, 2008
VisiWear today announced that it will change name to Pixavi pixavi.com. The name change is part of a new strategy that is intended to take the company to new heights. Composited from the words "Pixels, Audio, Video and Infrastructure", the Pixavi name is symbolizing the Company product portfolio as well as the technology behind. The company still has the same owners, board of directors and management.
The underlying strategy target is to position the company as a world leading vendor within the following business areas:
1. Wireless Video Communication for industrial applications.
2. Wireless Network Infrastructure for industrial applications
VisiWear (visiwear.com) was established in 1999 and has since then introduced a wide range of innovative wireless products to the market. The products help organizations improve efficiency, reduce their travel cost, improve their decisions and reduce their carbon footprint. Our customers can be found within oil and gas, mining, chemical industries, manufacturing, military and medical organizations.
Three years ago, we decided to Increase our focus on software innovation along with embedded hardware design. Through these last three years, the company has invested heavily in building a technology base that will be the foundation of the new Pixavi product portfolio. The new technology incorporates High Definition Wireless Video Communication and technologies like AVC HD /H.264, 802.11n WiFi, Bluetooth, SIP / H.323 video conferencing, Internet video streaming and intrinsically safe circuits. Being based on Embedded Linux and High performance signal processors as well as high end imaging components, the technology base features industry leading stability, security and performance.
Pixavi CEO, Christian Rokseth stated: "Now that the new technology is in place, we need to adapt our organization to conform to an increased activity level and growing sales volumes. We need to increase our sales and marketing efforts, but also ensure that our customers are backed by a solid support team. We have already come a great distance achieving these goals and stand ready to grow our organization considerably during the coming years along with the increasing activity level."
Pixavi Sales Director, Thomas Zaubi stated: "Pixavi will increase our focus on offering green technology. To underline this focus, we have launched the Green Ring of Excellence initiative. The purpose behind this initiative is to put emphasis on green technology and create a recognizable symbol of green technology. Also present on our product design, this symbol will be used actively by Pixavi in the future."
About Pixavi
Pixavi delivers state of the art wireless communication products, including wearable and mobile video products, wireless network products and wireless CCTV technology. The company's award-winning solutions also come in intrinsically safe versions and are used by the world's leading enterprises in a multitude of industries. With a broad suite of open, standards-based products, Pixavi has a high focus on technology innovation.
Contact us for for more information:
Thomas Zaubi
Sales Director
+47 90943156
sales(a)pixavi.com
pixavi.com
Legal Notice:
This news release contains forward-looking statements that involve risks, uncertainties and assumptions. If such risks or uncertainties materialize or such assumptions prove incorrect, the results of Pixavi and its consolidated subsidiaries could differ materially from those expressed or implied by such forward-looking statements and assumptions.
# # #