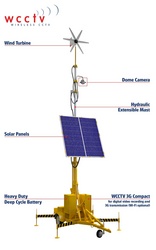 ROCHDALE, England (PRWEB) July 28, 2008
The WCCTV 3G TrailerCam offers a remote monitoring solution with the fastest installation ever. It is perfect for use in the harshest of operating conditions. The system is battery powered, with a solar and wind trickle charge, which makes it extremely flexible and means it can be deployed remotely for long periods of time.
Each TrailerCam unit uses high-speed 3G technology and short range Wi-Fi capabilities, which provide the ability to transmit fluid, high-resolution images wirelessly without geographical restrictions. The system has an integrated hard disk for digital recording, giving users the option to view either live or recorded evidential quality footage from any remote location using a PDA, laptop, PC or dedicated monitoring station.
The extendable hydraulic mast reaches up to 15 metres, contains a number of security features and offers a 360 degree field of vision to the operators, who can remotely control the camera with full pan, tilt and zoom functionalities.
Since the launch of Wireless CCTV's 3G product offering, many local authorities and police forces throughout the United Kingdom have been successfully using WCCTV 3G equipment in multiple overt and covert operations.
For more information, please visit: http://www.wcctv.co.uk
About Wireless CCTV Limited:
Wireless CCTV Ltd (WCCTV) is a market leader in the provision of mobile surveillance solutions, which combine the latest mobile telecommunication technologies (3G HSUPA) and CCTV. Each overt or covert portable solution delivers live and recorded evidential quality footage directly to a PDA, PC, laptop or monitoring station.
Wireless CCTV's mobile surveillance solutions have been developed in conjunction with various local government agencies and police forces. In 2007, The Home Office Scientific Development Branch rewarded Wireless CCTV with an Award for Equipment & Technology Innovation. This came in the form of a commendation for Wireless CCTV's work with Greater Manchester Police in developing 3G covert CCTV vehicles, used on a wide range of operations.
Wireless CCTV RSS Feeds:News UpdatesEvents UpdatesPress ReleasesVisualsSupport Updates
MULTIMEDIA GALLERY http://www.businesswire.com/cgi-bin/mmg.cgi?eid=5741336