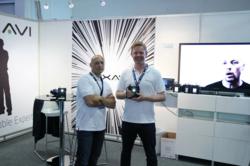 Stavanger, Rogaland (PRWEB) August 29, 2012
Pixavi is nominated for the Xcaster EX 5000 product in the SME category. The EX 5000 is the worlds first and only EX Zone 1 certified HD video collaboration camera. The award committee consists of representatives from the Norwegian Research Council, FMC, Schlumberger, Norwegian Petroleum Directorate, Intpow and Fugro.
To further highlight the benefits of implementing explosion proof wireless technologies and audiovisual communication within the O&G sector, Pixavi has released two whitepapers in conjunction with the tradeshow. The Whitepapers are available free of charge and found on our website:
Whitepaper 1:
A picture is worth more than a thousand words (PDF)
[This whitepaper discusses the benefits of utilizing intrinsically safe cameras and video communication devices in order to save cost and improve safety within the Oil&Gas sector. Author: Andreas Bjørnsund.]
Whitepaper 2:
Latest and greatest WiFi technologies for the Oil&Gas sector (PDF)
[This whitepaper discusses the benefits of utilizing wireless networking and WiFi technologies in order to safe cost and improve safety within the Oil&Gas sector.
Author: Tobias Rokseth]
Pixavi will be demonstrating our latest technology, this week at our ONS stand # 1170 , Hall M. We welcome anyone that are interested to pay us a visit.
Pixavi is broadcasting, blogging and socializing from the event through the following channels:
Pixavi on Facebook
Pixavi on Twitter
The Xcaster is a handheld wireless videoconferencing and collaboration camera, capable of advanced collaboration using high definition video and cd quality audio to any computer or telepresence endpoint. The ATEX and IECEx Zone 1 certified product can connect from the field to anywhere in the world using a internet connection or a satellite link. The user is able to connect from the field to experts and coworkers located practically anywhere, in order to solve problems and visually discuss issues and collaborate in real time. Both parties can enjoy an audiovisual experience so far offered only by telepresence and HD video conferencing systems. The result is obvious: Reduced travel cost and increased efficiency.
About Pixavi (http://www.pixavi.com)
Pixavi designs and develops mobile, wireless, high definition videoconferencing endpoints, cameras and wireless infrastructure for use in industrial and hazardous environments including ATEX and IECEx certified products.. Our products enable our customers to collaborate easily and solve problems faster. Our customers save time, money and carbon emissions every time they use videoconferencing instead of travelling. Often, as little as one saved helicopter trip can save the entire investment. In 2011, Pixavi won the "Vebjørn Tandberg Electronics Award". The jury of industry veterans made the following announcement: "(…) Pixavi has a comprehensive solution that has an indisputable value proposition for several markets and areas of application (…)".
About ONS (http://www.ons.no)
ONS is the most important meeting place in the energy business. It is held biannually in Stavanger, Norway. This year, ONS will be held from Tuesday the 28th of August to Friday the 31st of August.
# # #