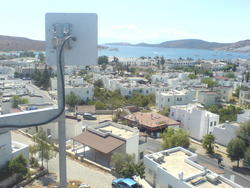 This is the 9th wireless video deployment we have executed with Proxim's broadband wireless technology, and each and every time we have been able to save our customers millions on deployment costs over wired infrastructure
Silicon Valley (Vocus) February 19, 2009
Proxim Wireless Corporation (NASDAQ: PRXM), a leading provider of end-to-end broadband wireless systems that deliver the quadruple play, today announced that it has provided the wireless backhaul for Turkey's largest video surveillance network in the port city of Bodrum. Bodrum is Turkey's second largest tourist town, with a peak tourist population of over 1.5 million people during the summer months. To ensure the protection of both tourists and locals alike, as well as the port itself, the Bodrum Police Department commissioned the construction of a city-wide wireless video surveillance network, utilizing Proxim's Tsunami™ MP.16 3500 licensed band WiMAX radios as the wireless backhaul to connect over 70 video cameras.
This deployment is a direct result of an initiative by Turkey's Department of the Interior to roll out video surveillance across the entire country. Prior to deploying Proxim's WiMAX radios as backhaul, the city of Bodrum had attempted to utilize traditional wired telecom infrastructure for the video surveillance network. But as an old, historical city, it was impossible to trench the number of lines that would have been necessary to provide enough throughput for the large number of cameras.
"Not only would digging up the streets of Bodrum compromise the historical integrity of the city, but it would have been completely cost prohibitive," said Faruk Meltem, IT Director of the Bodrum Police Department. "Given the extremely high number of tourists that visit Bodrum and the amount of activity in the port, we needed a solution that could help our Police force more efficiently protect our people and our assets, without breaking the bank. And since today's wireless networks are highly secure, we could safely deploy wireless at a fraction of the cost, but with all the performance and security features we required."
As a result, the Bodrum Police Department turned to STM, a wireless systems integrator, and Corvus, a Proxim distributor, for the overall design and implementation of the deployment. Corvus, which has worked with Proxim on numerous video surveillance networks throughout Turkey, knew from experience that Proxim's WiMAX radios are optimized to allow the high throughput uplink connections mandatory for video backhaul, and could provide more than enough throughput for the 70 video cameras. And by utilizing Proxim's proven wireless technology, the city of Bodrum saved an estimated $60,000 per month on leased line costs, while also avoiding the high cost (and damage to the historical city) that would have been incurred by trenching for fiber. Proxim's WiMAX radios also enabled the network to be deployed in a matter of months, as opposed to the years it would have taken to deploy the necessary wired telecom infrastructure.
"This is the 9th wireless video deployment we have executed with Proxim's broadband wireless technology, and each and every time we have been able to save our customers millions on deployment costs over wired infrastructure," said Atilgan Yilmaz, General Manager of Corvus. "Proxim's WiMAX technology provides as much bandwidth as - and in some cases more than - wired telecom infrastructure, so when you combine the cost and performance benefits, Proxim is the easy choice for wireless video surveillance networks."
Overall, STM and Corvus deployed 67 of Proxim's Tsunami MP.16 3500 subscriber stations, connected to 37 Tsunami MP.16 3500 base stations. They deployed over 70 Pelco digital surveillance cameras, each of which required at least 3.5 Mbps at any given time to provide 25 frame-per-second performance and 4CIF video quality. To avoid interference, STM and Corvus utilized Proxim's GPS-enabled configuration capabilities, which not only ensures optimal wireless links in congested areas but also reduces deployment times from days to hours. ProximVision ES, Proxim's end-to-end wireless network management suite, is used to manage the entire network.
"Now that wireless broadband networks have proven themselves time and time again to provide at least the same performance of wired telecom infrastructure at a fraction of the cost, we are seeing the demand for wireless to enable video surveillance networks skyrocket," said Humberto Malave, Vice President at Proxim Wireless. "As a result, critical video surveillance networks like this one in Bodrum are able to be deployed much quicker, and put in locations where you need them independent of any wired backhaul limitations. This enables police departments and public safety organizations to put the cameras where the crime is."
About STM
STM Defence Technologies Engineering Inc. is a professional services company delivering consulting services, technical assistance and technology-oriented solutions in Defense, Energy, Education, Health, Transportation and Homeland Security. STM was established in 1991 by the decree of the Defence Executive Committee, the highest decision making authority in the Turkish Defence Industry, to provide systems engineering, technical support, project management, technology transfer, logistics support services and to develop necessary software technologies for defence systems, to establish and operate national software centers for software development and maintenance/support. Drawing on its advanced knowledge and extensive experience to date, STM has been continuing its works to offer these services to public and private organisations in the national and international platforms, and convert them into a broad spectrum of services with a wider point of view. For more information please visit STM's website at http://www.stm.com.tr.
About Corvus
Corvus Technology is a global system integrator, providing its clients with the opportunity to more efficiently use their Information Technologies by closely monitoring the constantly developing information technology landscape. With innovative thinking, Corvus Technology has been supplying the IT market with the electronics security solutions (CCTV, Access Control, Fire Detection, Building Automation etc.) and wireless communication solutions suitable for the requirements of all private and governmental institutions.For more information please visit CORVUS website at http://www.corvustech.com.tr.
About Proxim Wireless
Proxim Wireless Corporation (NASDAQ: PRXM) is a leading provider of end-to-end broadband wireless systems that deliver the quadruple play of voice, video, data and mobility to all organizations today. Our systems enable a variety of wireless applications including security and surveillance, VoIP, last mile access, enterprise LAN connectivity and Point-to-Point backhaul. We have shipped more than 1.8 million wireless devices to more than 235,000 customers in over 65 countries worldwide. Proxim is ISO-9001 certified. Information about Proxim can be found at http://www.proxim.com. For investor relations information, e-mail ir (at) proxim (dot) com or call +1 413-584-1425.
Safe Harbor Statement
Statements in this press release that are not statements of historical facts are forward-looking statements that involve risks, uncertainties, and assumptions. Our actual results may differ materially from the results anticipated in these forward-looking statements. The forward-looking statements involve risks and uncertainties that could contribute to such differences including difficulties in overcoming the network installation and operational challenges relating to any specific customer or geographical area; factors beyond our control such as weather, geographic, governmental, and interference issues; specific requirements of a given customer in their specific situations; uncertainties as to any specific types of services available in any specific geographic region; and difficulties or delays in supplying products with the features, performance, compliances, certifications, cost, price, and other characteristics desired by customers. Further information on these and other factors that could affect our actual results is and will be included in filings made by Proxim Wireless from time to time with the Securities and Exchange Commission and in our other public statements.
Contact Information:
Robb Henshaw
Senior Manager, Corporate Communications
Proxim Wireless
Email: rhenshaw (at) proxim (dot) com
Phone: 408-383-7699
# # #