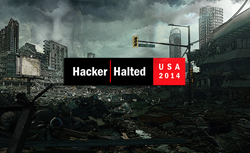 Wherever you look, people are using laptops, tablets, and smartphones, both for personal and business reasons. This opens up massive opportunities for wireless hackers and other types of cybercrime.
Atlanta, GA (PRWEB) August 26, 2014
Due to the explosion of "always-connected" devices, sensitive and classified information have become lucrative targets for exploitation. Wherever you look, people are using laptops, tablets, and smartphones, both for personal and business reasons. This opens up massive opportunities for wireless hackers and other types of cybercrime.
Among these threats, is a rise in ransomware infecting mobile phones, as a recent claim by McAfee reiterates. The interception of data between a wireless device and the website or application the user is using is also lucrative for farming usernames and passwords or attempting to hijack user sessions. Additionally, simply "grabbing" whatever comes through the air to look for interesting files, photos, and data is increasingly common.
Hacker Halted, an event run by the non-profit EC-Council Foundation will offer Telspace Systems' Wireless Hacking 101 as a certification class to teach i nformation security professionals how to ensure their wireless infrastructures are secure. The course will run from 14th-15th October 2014, and will be taking place at the Georgia World Congress Center. Telspace Systems will be running a two-day course addressing wireless hacking issues ahead of, and in conjunction with, the Hacker Halted IT Security conference in Atlanta, Georgia this October.
The new culture of Bring Your Own Device (BYOD) brings additional security issues to the fore, as businesses have to protect their critical company information on user-controlled devices. Companies are now faced with the problem of personnel bringing in personal cellular access points, often bypassing company security policies and transmitting sensitive data over an unsecured, out-of-band channels. This adds to the list of vectors an attacker could pursue. Since BYOD hardware often contains company sensitive information, it is too a target for attackers either directly or via Wi-Fi attacks.
This course covers one of the most widely used forms of data transmission available to mankind today – wireless. Wireless Hacking 101 will provide real world, hands-on instruction on not only how to attach wireless, but also how to defend against attacks.
Students will leave equipped with the knowledge of how to analyze wireless networks, enumerate them, and then attack them. The course is not all theory. After covering the basics and fundamentals of how Wi-Fi works, how encryption works and how clients associate with wireless access points, the course will then examine how to attach them. With in-depth and hands-on instruction, the students will learn to competently hack their way through a wireless network. Challenging assessments, and a "capture-the-flag" examination will ensure students are immersed in this highly technical, but highly rewarding course. Subjects covered will include; Wi-Fi enumeration, WEP and WPA1/2 hacking, obtaining passwords, spoofing and attacking wireless clients and defending against wireless attacks.
About the Wireless Hacking 101 Instructors
Dino Covotsos is the founder and CEO of Telspace Systems, a South African IT security firm started in 2002. He has many years of experience in the IT security industry and has been involved in several large-scale projects worldwide, ranging from forensics to attack and penetration testing for corporate clients. Dino has also written articles for various newspapers and magazines in the IT and government sectors, specifically on information security issues. He has been featured on television (including BBC) and is a regular presenter at information security conferences worldwide.
Dimitri Fousekis currently head of penetration testing for Telspace Systems. He has over 15 years experience in IT of which a large portion is in the Security space. He enjoys not only managing the pentest teams but also being a penetration tester himself, having worked and assessed many large corporations. In his spare time Dimitri is a part of Team Hashcat which specializes in password cracking and has given talks on the topic at various international conferences. He is also an instructor for our courses at Telspace of which he gives input and designs various challenges.
About EC-Council Foundation
EC-Council Foundation is a not-for-profit initiative by EC-Council to raise awareness of online safety issues for the global community while unifying global cyber defense. EC-Council Foundation's mission is to unify global cyber defense by fostering collaboration and participation of online computer users to become advocates for safe on-line activities for youth and adults alike through education and training programs. Visit http://foundation.eccouncil.org/.
About Hacker Halted
Hacker Halted, now in its ninth year as an annual event, is a two day conference focusing on the latest trends in information security and is this year proud to be headlined by world famous Johnny Long, groundbreaking author of Google Hacking. Hacker Halted is where the world's leading white hat hackers come to network, trade tips and tricks, and learn from the best. Occurring before the two-day conference is Hacker Halted Academy, four days of intensive information security training with classes on Advanced Mobile Hacking, Certified Chief Information Security Officer, and Certified Ethical Hacker, among many others.