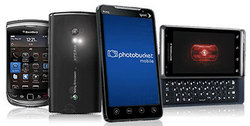 We are excited to deliver our full suite of wireless products and services to Photobucket's millions of users nationwide.
Reston, VA and San Francisco, CA (Vocus) September 30, 2010
Simplexity, the Internet's leading authorized retailer of cell phones and service plans, and Photobucket (http://photobucket.com ), the Web's premier photo and video-sharing Web site, today announced the launch of Photobucket's mobile phone shop, a new online store for cell phones, services and accessories. Built and managed by Simplexity, this new one-stop shopping destination at Photobucket.com features hundreds of the latest wireless devices, including BlackBerry and Android-powered smartphones. All compatible phones will ship with the free Photobucket Mobile application or with simple download instructions The Photobucket Mobile application makes it incredibly simple to upload, share and browse from any mobile phone.
Photobucket's privately-labeled mobile store, powered by Simplexity, features exclusive online savings on wireless devices -- up to hundreds of dollars less than retail stores -- from top handset manufacturers including BlackBerry, HTC, LG, Motorola and Samsung and every major U.S. carrier. Utilizing Simplexity's fully integrated e-commerce platform, Photobucket customers can quickly and easily shop for the latest cell phones either by manufacturer, service provider, or rate plan. They also have the ability to upgrade their current phones, transfer service -- and phone numbers -- to new carriers, or add new lines to an existing family plan.
"We are excited to deliver our full suite of wireless products and services to Photobucket's millions of users nationwide," said Andy Zeinfeld, chief executive officer of Simplexity. "By leveraging Simplexity's award-winning mobile solution, Photobucket is able to offer a significant value to their user base."
"The Photobucket Mobile application is available to all mobile phone users, including ones who purchase from Simplexity, and gives users a fantastic imaging experience on their phones," said Darren Kelly, CRO of Photobucket. "We love Simplexity because we can now offer our users a cost effective solution for their new phone purchases."
About Photobucket
Photobucket is the premier dedicated photo and video sharing site where over 100 million worldwide members have registered to browse, save, and share their photos and video. Photobucket links billions of personal photos, graphics, slideshows and videos to millions of Web sites each day. In addition to linking content, Photobucket users share their personal digital media by email, instant messaging, and mobile devices. Each day, millions of personal photos, graphics and videos are uploaded to Photobucket for sharing with family, friends and the online world. The company actively moderates content to create a safe environment for its users, partners and advertisers. Photobucket has offices in San Francisco, California, and Denver, Colorado and is located online at http://www.photobucket.com . For the latest feature announcements and news, please visit the Photobucket blog at http://blog.photobucket.com .
About Simplexity
Simplexity is the Internet's leading retailer of cell phones and wireless plans. Simplexity's technology solutions include merchandising, procurement, customer service, billing, customer relationship marketing, order processing and cell phone activations for the largest carriers in the U.S -- Verizon Wireless, AT&T, T-Mobile and Sprint. Simplexity operates private label websites for some of the largest names in retail, including RadioShack, Target, Sears, Kmart and Dell, as well as, the popular website Wirefly (http://www.wirefly.com ), the leading cell phone and wireless plan comparison shopping site that has been awarded "Best of the Web" by Forbes magazine and "Best in Overall Customer Experience" by Keynote Systems. For more information about the company, its products and services, visit the Simplexity corporate website at http://www.simplexity.com .
Contact
Megan Murray
Simplexity
703.657.4102
mmurray(at)simplexity(dot)com
###