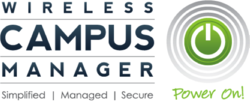 Atlanta, Georgia (PRWEB) April 15, 2013
Manage Mobility is pleased to announce that Neill Kimrey, Director, Digital Teaching and Learning of the North Carolina Department of Public Instruction, drew the winning entry in the Power On contest sponsored by its Wireless Campus Manager division at the Consortium for School Networking (CoSN) mobile technology conference in San Diego. Mr. Kimrey asked Manage Mobility to select a North Carolina school district to receive the prize, on his behalf, since his current employment prevents him from accepting it. Manage Mobility chose the Stanly County School District in southeast North Carolina, where a robust technology initiative is already underway.
Brandon DeLeeuw, Chief Technology Officer for the district, says he is very excited about the opportunity for his district. "We currently have a strong BYOD (Bring Your Own Device) initiative in our schools and we have seen some great things come out of it in specific situations. Two great examples are our graduation project and the ability of our kids to take classes online. But ultimately we would like to extend the mobile learning opportunity to all our grade 3-12 students in a 1:1 program, "said DeLeeuw. "We know putting devices into student's hands will have tremendous impact. But launching a program across the district is a substantial investment in funds and infrastructure. Having a pilot program that lets us evaluate the 1:1 launch process and all the technology and administrative components necessary to support mobile learning, while also evaluating the classroom experience is extremely helpful," said DeLeeuw.
DeLeeuw says the Stanly County school district has 21 schools and 8,735 students. A 1:1 initiative would mean managing approximately 6,600 devices for students in grades 3-12. "One of the biggest challenges is to manage and track all the devices and make sure students and teachers are able to use them to enhance personal teaching and learning. It will be interesting to see how an integrated solution addresses that challenge," said DeLeeuw.
The Wireless Campus bundle simplifies all the key components of mobile learning technology into one contract with best-in-class partners and one point of contact. The bundle includes Device Procurement & Imaging, Asset Management, Mobile Device Management (MDM), Learning Management Software (LMS), Acceptable Use and Break/Fix policies, CIPA compliant Internet Filtering, and Helpdesk Services. School Districts may also customize their bundle or elect to purchase individual components.
"It was clear from our time at the CoSN 13 conference that there is increasing demand on school districts to get mobile learning successfully launched and managed sooner rather than later. We are pleased to be able to offer this opportunity for a Stanly County classroom to begin the 2013 school year with tablets and the mLearning technology support necessary to manage mobile learning programs," said Stacy Chisum, Senior Vice President of Strategy and Business Development for Manage Mobility.
Manage Mobility CEO Mike McGuire says a focus group with District CTO's at the CoSN 13 conference showed that funding, IT infrastructure, and asset management are critical challenges that Districts need to solve. "We continue to listen and learn from the school districts we serve and our goal is to be a true partner in helping schools launch and manage mLearning programs quickly and securely. As we expand our partnerships, safe learning on and off campus is another option we can offer schools through carrier channels," said McGuire.
The Wireless Campus Manager solution is device, OS, and carrier agnostic and manages both Wi-Fi only and cellular devices. "We are excited about our new initiative with Sprint that makes Wireless Campus Manager available on S print's new 3G/4G data plans for K-12 education, providing safe internet access both on and off campus" said McGuire.
About Wireless Campus Manager
Wireless Campus Manager is a division of Manage Mobility, the award-winning leader in logistics and management for wireless programs. Working with the world's most demanding organizations helped us to build the Wireless Campus Manager solution to quickly and safely Power On K-12 mobile technology. We offer schools a bundled solution that simplifies, manages and secures mobile learning technology and provides life cycle support to manage devices and control wireless expenses. The Wireless Campus Manager bundle includes partnerships with best-in-class vendors and provides one contract and one point of contact to education CTO's. Schools or districts may also purchase individual components to suit their particular initiatives.
For more information, please visit http://www.wirelesscampusmanager.com or contact info(at)managemobility(dot)com.
If you are interested in learning more about the Sprint K-12 plans for education that include Wireless Campus Manager, visit http://www.sprint.com/k12.