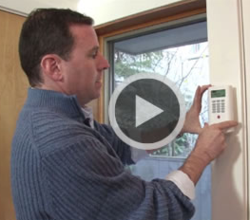 This video will prove that people don't need to wait all day for an alarm installer to arrive and then deal with the discomfort of having a complete stranger in every room of the house...It's just not necessary," says David Jackel of Shave Media
(Vocus/PRWEB) April 12, 2011
SimpliSafe Inc, the leading provider of easy-to-install wireless home security systems, just released a new video to help homeowners save hundreds on installation fees.
The video is five minutes in length and quickly provides a step-by-step description of exactly how to install a SimpliSafe burglar alarm.
"We know that some people wonder 'can I really do this myself?' We created the video to show them that they definitely can," says CEO Chad Laurans.
Traditional security companies typically charge anywhere from $99 to $500 for a home security installation, depending on the size of the system. This recently released video empowers consumers to opt out of paying these huge fees, and instead, install a security system themselves.
SimpliSafe systems are easily installed using 3M's super strong Command adhesive strips. As described in the video, the self-installation takes minutes, because it only requires peeling the adhesive backings off of SimpliSafe's wireless sensors and firmly pressing the sensors on doors and windows.
"This video will prove that people don't need to wait all day for an alarm installer to arrive and then deal with the discomfort of having a complete stranger in every room of the house, drilling holes and running wires in the walls. It's just not necessary," says David Jackel of Shave Media, the company that produced the video.
Watch the wireless home alarm installation video to see how SimpliSafe customers save hundreds by installing their own security systems.
About SimpliSafe
SimpliSafe Inc. is a leading provider of wireless home security systems and apartment alarms. Its alarm systems are packed with cutting-edge technology, smart software, and are incredibly easy to use. SimpliSafe was created as a counterpoint to traditional security companies, many of which thrive by selling outdated technology at highway-robbery prices. For more information visit http://SimpliSafe.com.
###