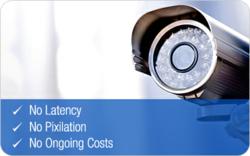 Wireless IP CCTV is revolutionising town centre CCTV. Higher quality and a fraction of the costs!
(PRWEB) May 29, 2011
Patex, a UK based specialist in wireless CCTV communications, is creating a buzz with its new IP link which can send video, audio and data from one city to another up to 30 kilometers away.
Patex has been supplying town centre wireless CCTV systems for 12 years and has set the standard for high spec, low cost systems. Supplying local Government, defence agencies and blue chip companies, Patex is set to lead the market with this new state-of-the-art wireless IP system.
This IP Wireless transmission system works by collecting all the CCTV cameras' data in one area and coding it. Once it's coded it's then transmitted to a collection point in the next town, or city, de-coded and sent to the control room. It's an ideal solution for authorities wanting to monitor CCTV from another town or city to another.
Peter Massey, Technical Director, says "The great thing about this wireless IP system is that you have very little delay. The transmission time is negligible so you have the benefits and quality of wired cameras but on a wireless network. Also, it uses free to air frequencies so there are no ongoing costs. We've worked hard to get this product right and we're excited about the results. We have all the right products to transform any town or city CCTV system into a totally wireless CCTV network!"
With budgets slashed and CCTV managers trying to find ways of maintaining coverage without the high costs of fiber connection, this system is being launched at exactly the right time. Patex Wireless IP system will connect with all camera protocols allowing a seamless transfer into a completely wireless CCTV town.
There are two systems: one to 4KM and one to 30KM. The 4KM system is a great re-deployable solution which transmits back to the 30KM collection point. The 30KM system then transmits on to the control room.
Already Patex has helped several town centers make that transition to a full wireless CCTV network with an installation allowing up to 88 cameras to be transmitted wirelessly at one time.
If you're looking for excellent quality, you can be sure of CCTV images as good as cabled cameras. This system is built in the EU and passes all quality standards. Contact Patex for more information on info(at)patex(dot)co(dot)uk or call ++44 (0)1590 689240 to get an instant quote.
# # #