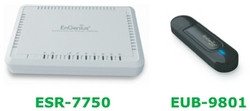 Our latest router is specifically designed to allow families with multiple computers to work simultaneously. While Mom sends emails and Dad checks the sports scores, brother can use the Xbox to engage in online gaming without any disruptions or pauses caused by interference from the other two wireless data transmissions
Costa Mesa, CA (PRWEB) October 13, 2009
Last month, EnGenius Technologies entered the consumer market with a set of reliable, affordable wireless routers that are easy-to-use and are backed by powerful technology formerly reserved for the business market. Today, EnGenius released its third home wireless router, ESR-7750 and compatible USB wireless adapter, EUB-9801; both of which utilize the highly sensitive Dual-Band 802.11n technology, making them perfect for streaming video, online gaming, and VoIP.
The ESR-7750 wireless router boasts the most advanced wireless N technology using both QoS (Quality of Service) and MIMO (Multiple Input- Multiple Output) to prioritize the throughput on the router to allow for uninterrupted, long-range wireless communication. In addition, the wireless N router has two access points that permit wireless transmissions over two different bands. For example, all basic wireless transmissions (email, web surfing, file sharing, e.g.) occur over the normal 2.4GHz band; while intensive data streaming (online gaming, VoIP, streaming video, e.g.) is processed over the less crowded 5GHz band.
"Our latest router is specifically designed to allow families with multiple computers to work simultaneously. While Mom sends emails and Dad checks the sports scores, brother can use the Xbox to engage in online gaming without any disruptions or pauses caused by interference from the other two wireless data transmissions," explains Eric Deming.
With the advanced Wireless N Dual-Band technology, the ESR-7750 is the most powerful wireless router in EnGenius new consumer line. Its other key features are:

Multiple SSIDs: The router can be configured to allow a separate limited-access "guest" wifi network.
Smart NAT: The router contains advanced technology that boosts its data handling ability.
Wireless Repeater Feature: The router can function as a wireless range expander to further extend the signal of a wireless network to reach "dead spots."
Push Button Technology: The router and adapter will connect to each other via a single push of a button. This eliminates complicated setups with cryptic codes and technical terms.
Green Technology: The router has the ability to shut-down unused ports and connections. This increases the routers life expectancy, increases its efficiency and cuts-down on the cost of operation.
To compliment the ESR-7750, EnGenius is simultaneously releasing the EUB-9801, a dual-band wireless N USB adapter. Like the ESR7750, the EUB-9801 is able to communicate on both the common 2.4GHz band or, if necessary, can use the less crowded 5GHz band. With this advanced technology the user is less likely to experience slow-downs or disruptions while using their wireless computer on a crowded wireless network - whether that be at home or in a coffee shop.
Recognizing that home wireless networking is rapidly increasing, specifically online gaming and streaming video, EnGenius created the ESR-7750 and EUB-9801 to meet the demand. Together the two products offer the home user the same advanced, cutting edge wireless N technology that was formerly reserved for the business industry. While they can handle the crowded wireless network traffic typical of a busy public wireless network, they are also easy-to-use and affordable, making them adaptable to any home environment.
The two latest EnGenius consumer products are available at select value added distributors such as ASI Partner and Synnex, retailers such as Micro Center, direct marketers, e-commerce sites such as Buy.com, ProVantage, and Tiger Direct, and value-added resellers at a suggested retail price of $79.99 and $39.99 respectively.
For additional information about the ESR-7750 and EUB-9801 or other EnGenius products, please visit http://www.EnGeniusTech.com.
About EnGenius Technologies
EnGenius Technologies is a global technology innovator specializing in long-range telephone and data communications. The company pioneered the "Affordable Long-Range Wireless" product category. Its award winning, long-range devices consistently outperform competitors' deployment coverage. Established in 1999, EnGenius Technologies, Inc. is a wholly-owned subsidiary of Senao Networks, a Taiwan RF communications manufacturing company.
###