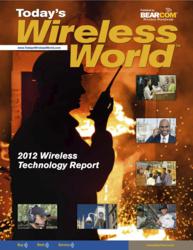 BearCom's many industry partnerships and nationwide customer base put it in a unique position to offer these publications.
Dallas, TX (PRWEB) February 10, 2012
BearCom, a nationwide provider of wireless communications equipment and solutions, today announced the availability of its 2012 Wireless Technology Report and 2012 Wireless Products & Solutions Guide.
The Wireless Technology Report, a special annual issue of BearCom's magazine, Today's Wireless World, is published in cooperation with industry leader Motorola and several other key BearCom partners. Today's Wireless World chronicles the rapid developments in wireless technology and has been recognized with an International Award of Excellence from the Society for Technical Communication, which praised the magazine for innovation, style, and clarity. This year, it highlights the opportunities to create cost efficiencies through the use of wireless technologies.
The Wireless Products & Solutions Guide, also published annually, features details about BearCom's extensive wireless product line, including two-way radios and apps, two-way team communication systems, smartphones, mobile broadband cards, WLAN systems, IP video surveillance cameras, mesh broadband networks, point-to-point bridges, remote call boxes, and mobile command centers. It also features information about BearCom's rental and leasing services, as well as the company's engineering, technical service, and repair capabilities.
Both publications showcase the products and solutions offered by BearCom and its innovative wireless technology partners: Motorola, Icom, Vertex Standard, TABLETmedia, SafeMobile, Sonetics, 3M Peltor, David Clark, IMPACT Radio Accessories, Pryme, OTTO, Sprint Nextel, True Wireless, Sony Electronics, Panasonic, Firetide, BridgeWave Communications, Cambium Networks, LDV, and the Enterprise Wireless Alliance.
"Our many industry partnerships and nationwide customer base put us in a unique position to offer these publications," said BearCom's Chief Marketing Officer, Kent Huffman. "Both continue to report on recent developments in wireless technologies and communicate them in layman's language to executives and managers who are in charge of deploying those technologies for their organizations."
About BearCom
BearCom provides a broad line of high-performance wireless communications products, services, and complete mobility solutions. Founded in 1981, BearCom is America's only nationwide dealer and integrator of wireless communications equipment, serves customers from 26 branch offices located throughout the U.S., has several affiliated offices around the world, and employs approximately 400 people. BearCom is headquartered in the Dallas, Texas area. For more information, visit http://www.BearCom.com.
###