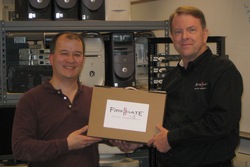 "In the dynamic world of technology, it is critical to arm tomorrow's leaders with the latest innovation," Mr. Schram said.
Cincinnati, OH (PRWEB) December 14, 2009
Students studying network security at Ball State University now have the latest high-performance network security and disaster recovery product on the market, as well as access to the executives behind the innovative new product. In conjunction with the national product launch, Wiresoft Inc. donated their Firegate® platform to the school's renowned Department of Technology Computer Technology Program. Additionally, Wiresoft President and CEO Tom Schram agreed to serve on the university's Computer Technology Program Advisory Committee.
"In the dynamic world of technology, it is critical to arm tomorrow's leaders with the latest innovation," Mr. Schram said. "As we unveiled the world's most reliable network security platform, we wanted to share it with the future industry leaders who soon will be working to protect our customers."
The Firegate 100® platform with the Firegate Disaster Recovery® module was presented to David Hua, assistant professor and Computer Technology Program coordinator in the Department of Technology at Ball State University.
"We are delighted and honored to have Mr. Schram join our advisory team, and his generous donation of this pioneering product provides our students with an extraordinary opportunity to learn," said Mr. Hua. "It's not often that students have access to leading innovators and the latest and greatest technology available on the market."
The Firegate platform is the industry's foremost "never been breached" firewall, delivering enterprise-level security and disaster recovery to small and medium-sized businesses (SMBs) at an economical price. A unified threat management (UTM) network security product, the Firegate provides firewall, individually configurable spamwall, unlimited VPN support, content filtering and anti-virus protection all in one security platform.
Wiresoft's Firegate Disaster Recovery prevents loss of business data, a vital complement that makes Firegate the most comprehensive network and data protection product in the industry. Plus, continuous maintenance and monitoring through Wiresoft's adaptive intelligence Automated Network Administrator (ANA) keeps Firegate up-to-speed and ahead of the game on rapidly evolving network security threats.
Industry Innovators Serving Students:
In addition to the generous product donation, Wiresoft officials are pledging significant time to the Computer Technology Program. Mr. Schram was officially sworn in today as a private industry member of the Computer Technology Program Advisory Committee. The group provides strategic oversight for Program initiatives and academic activities. Current initiatives include: a proposed Student-run Data Center that will provide learning experiences and research opportunities for Ball State students, faculty and the surrounding community; and an immersive learning project with students developing an online, multimedia training course to assist Indiana Public Schools and other third-party entities.
In his letter of acceptance to the Committee, Mr. Schram formally offered to have members of his technology team serve as network security advisors to the department at no cost to the university.
"Ball State's Computer Technology Program provides students with a practical opportunity to learn their craft and hone their skills," Schram added. "Wiresoft is proud to support these outstanding students and this extraordinary academic program."
About the Ball State University Computer Technology Program
The Computer Technology Program at Ball State University is a multidisciplinary program that prepares students to be the next generation of leaders in the field of information technology. In addition to providing students with a broad foundation in information technology, the curriculum incorporates business administration, programming, and electronic engineering technology. Students have the opportunity to gain the knowledge and experience needed to provide secure, sustainable solutions to meet organizational goals and objectives through the use of technology.
About Wiresoft:
Based in Cincinnati, Wiresoft is a leading provider of affordable high performance network security and disaster recovery products for small to medium-sized businesses. For further information on Wiresoft and the Firegate family of products, please visit http://www.wiresoft.com.
# # #