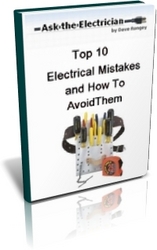 The Top 10 Electrical Mistakes and How to Avoid Them - Volume 1.
Grass Valley, CA (PRWEB) August 6, 2008
Ask-The-Electrician.com has re-launched its website with a redesigned, easy-to-use navigation bar and is also developing an information portal about residential wiring diagrams.
Ask-The-Electrician.com's creator, Dave Rongey, says, "The main goal of Ask-The-Electrician.com is to provide step-by step instructions with pictures for projects that homeowners and do-it-yourselfers commonly have questions about." The website currently has over 1,000 pictures of electrical projects with new high-quality photos added regularly.
The formation of the new residential wiring diagrams section of the website is just one step closer in fulfilling this goal. As it is developed, it continues to bring together information about all aspects of home wiring into one central location.
Other recent changes to the site include a reorganization of the homepage to help visitors easily find the information they are looking for as soon as they get to the site, an improved search bar that searches the entire content of the site, and a newly redesigned navigation bar that is organized by topic.
In addition to creating wiring diagrams to help people with their home electrical wiring projects, Dave Rongey has made available a free report entitled, "The Top 10 Electrical Mistakes and How to Avoid Them - Volume 1." The free report can be downloaded at Ask-the-electrician.com - Home electrical wiring diagrams.
About Ask-The-Electrician.com:
Dave Rongey is a licensed electrical contractor with over 35 years of experience in the field. He said, "I have accumulated a massive amount of information through all my years as an electrician. With Ask-The-Electrician.com, I want to be able to share that information and knowledge with others." Dave and his team are doing just that.
Ask-The-Electrician.com is a growing treasure trove of information that will help visitors understand their electrical projects from a professional point of view and guide them with how-to photos as they consider their next project.
###