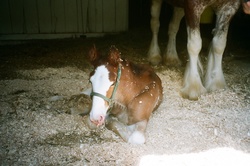 The water receded very quickly
Fond du Lac, WI (PRWEB) June 19, 2008
When a community is named Best Waterfront Town by National Geographic Adventure's Magazine and has long been known as "First on the Lake," a visitor would expect to see water, just not rushing down Main Street. That was the case, however, in Fond du Lac, Wisconsin, when recent storms dumped some five-inches of rain in just two hours throughout the Fox River Valley.
But despite rising waters that flooded basements and forced residents to seek drier ground, Fond du Lac and much of the surrounding area are open for business and welcoming visitors. "The water receded very quickly," says Fond du Lac Area Convention & Visitors Bureau CEO Michael Schmal, "and while some neighborhoods are still being cleaned up, all of our local attractions remain open, except St. Paul's Cathedral." The 19th century English Gothic church sustained no damage to its German and American woodcarvings, life-sized statuary or other artwork, but did have at least two feet of water in the basement, requiring extensive cleanup.
The city's 400-acre Lakeside Park, with its signature 1933 Lighthouse, old-fashioned carousel, train ride, petting zoo and playground forms the southern shore of Lake Winnebago, the second largest inland lake in the United States. Sunset cruises aboard the 63-foot Lakeside Spirit feature mouthwatering food and refreshing beverages, set sail from the Park's marina Tuesday through Saturday evenings, even if it is raining! In fact, all of the city's many parks and golf courses are still in playable shape.
Glacier activity has carved Fond du Lac County into a topographical marvel from Kettle Moraine State Forest to the Niagara Escarpment - known locally as "The Ledge." Together with the Eldorado Marsh, Horicon National Wildlife Refuge and near-by Hobbs Woods, hikers, bicyclists, birders and nature lovers will find miles of trails and acres of wonders.
The newest wonder awaiting visitors is "Famous Miss Stormy," a 178-pound foal born at Larson's Famous Clydesdales during the heart of the recent storm. Larson's is the nation's only tour and show featuring the mammoth work horses. In fact, Fond du Lac County has more than its share of unique animals, from the buffalo (both American and water) and Chloe the Camel at Glacier Ridge Animal Farm to the llama and fainting goats at Villa Loretto, a ranch run by retired nuns, featuring the "Nun Better Bakery."
Located just 175-miles North of Chicago, and only an hour from Milwaukee, Green Bay and Madison, Fond du Lac is perfect as a weekend get-a-way and can serve as a "hub" for exploring the whole of southern and northeast Wisconsin.
Historical attractions and unique architecture can be found throughout the area. Wade House, a 27-room stagecoach inn with an operating blacksmith shop and sawmill; Galloway House & Village featuring a 30-room mansion, 29 period buildings from the region, and a huge display of antiques; and the Nationally Registered - some say haunted - Octagon House, a 12-room grout home with nine secret passages that served as a stop on the "Underground Railroad," are all complemented by an array of Victorian, Tudor and Italianate design private homes found throughout the city of Fond du Lac and surrounding communities.
Indoor attractions include Do It all Sports arena, the Windhover Center for the Arts, Fond du Lac Children's Museum, and exhibits for any interests from collecting dolls to collector cars.
Complete information about all the Fond du Lac area has to offer in fair and foul weather is available free at http://www.fdl.com or by calling 800-937-9123.
The Fond du Lac area Convention & Visitors Bureau is responsible for marketing Fond du Lac as a destination to group and leisure travelers.
###