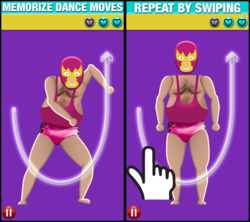 An American tradition cloaked in mystery…until now.
New York, NY (PRWEB) October 17, 2012
Welcome to a world where being a winner on the dance floor doesn't require pricy classes.
A game centered on old school dance moves and tighty-whiteys has finally been birthed - it's name: Wisconsin Hustle. Launching October 17, 2012 as an Android App for solo hustling on-the-go AND a real life card game to get any party started, the Wisconsin Hustle tests memory skills and encourages "dancing your pants off" (or keeping them on, k? thanks). Case in point, this Wisconsin Hustle demo video.
For large and small groups of game-lovers, wacky dance fanatics, party throwers and crashers, and the average "what should we do now?" person, the Wisconsin Hustle gets gamers on their feet and ready to boogie!
Created by the non-traditional game company Awkward Hug, the Wisconsin Hustle is a modern spin on "Simon Says". "Players memorize a growing sequence of knock-your-pants-off dance moves – the Travolta, the Running Man, the Ladder - the boogie list goes on as you destroy your competition," describes Julie Babb, co-founder of Awkward Hug. "You can challenge your friends with the Wisconsin Hustle card game or challenge yourself by getting your fingers to dance the sequence."
The Wisconsin Hustle app is available on the Android Play Market, and the card game is available at http://www.wisconsinhustle.com.
About
When the digital and the real world try to embrace one another it tends to get a bit awkward. Awkward Hug thrives in that space by understanding the needs and desires of audiences in our cross-platform world. Utilizing play and stories, we engage people through innovative and electric ideas… to sum it up: We Make Fun.