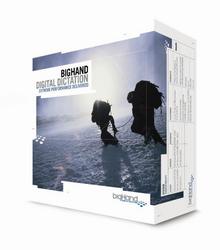 Milwaukee, WI (PRWEB) September 3, 2007
One of Wisconsin's leading law firms, Whyte Hirschboeck Dudek S.C. (WHD), has joined the growing number of law firms across the country to have recently implemented the award-winning BigHand Digital Dictation system.
WHD quickly realized that the technology of dictating had rapidly progressed, from an antiquated, manual "dictate to tape" process to a "voice workflow" scenario, focused on delivering strategic IT and administrative objectives such as controlling equipment costs, enhancing attorney and staff productivity via mobility, and encouraging inter and intra-office teamwork.
The firm no longer has to deal with tapes breaking, lost dictations, tape machine repairs, and the inability to efficiently get tapes into the right hands for on-the-fly transcriptions and processing. The BigHand system allows attorneys to send dictated case notes instantly to their assistants even if they are out of the office, in another meeting or leaving to go home. The system creates 'virtual teams' across the firm that means secretaries have the capability to team together and ensure documents get out of the door to clients twice as quickly. Attorneys can even email dictation into their assistants when they are at court, at a client site or even on vacation - dramatically speeding up the drafting and production process.
Richard Lewandowski, WHD attorney, described the impact of BigHand Digital Dictation software:
"Recently I needed to get a lengthy analysis letter typed up in the evening but due to inclement weather; Madison didn't have coverage in the resource center. Rather than imposing on one of the daytime assistants to stay late (and incur overtime costs), we were able to transfer the dictation file via Citrix to the Milwaukee resource center, and my draft was waiting for me when I got in this morning. The system was very well planned, rolled out and implemented. Once the firm gets accustomed to it, it should pay big dividends in efficiency and greater flexibility."
The firm has nearly 200 users on the new system, which allows them to dictate using a handheld recording device that syncs the dictation files with the BigHand server or transcribe using a headset and foot pedal through an office PC or via the Web through a Citrix connection. In terms of usability, BigHand offers total visibility in one window, real-time tracking and pop-up alerts (to let secretaries know when a dictation is ready for transcription).
For more information about BigHand's new BlackBerry mobility enhancement, please go to: http://www.bighand.com/digitaldictation/blackberrysmartphone.html
Contacts:
Jobst Elster, Envision Agency, (850)385-4599
About BigHand
A Microsoft Gold Partner based out of Chicago, London and Sydney BigHand is the leading digital dictation vendor in the global legal sector, maintaining the five largest sites at international law firms and with more legal installations in total than all other suppliers combined. BigHand3 was nominated as "Best of Breed System of the Year" at the Legal Technology Awards 2007. BigHand was named as the fastest growing legal software developer in The Sunday Times Microsoft Tech Track 100 league tables for both 2005 and 2006. BigHand was also recognized by Deloitte as one of the 500 fastest growing software vendors in Europe in 2006. Additionally BigHand was voted "Best Legal Office Technology System 2004" from votes from over 14,000 lawyers and IT managers across the legal sector at the LOTIE Awards. BigHand's leading product also won the Society for Computers & Law IT Award in 2003 for "the most outstanding application of information technology to the law". Further information is available at http://www.bighand.com
###