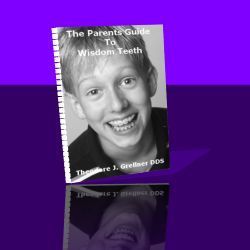 Tampa, Florida (PRWEB) June 10, 2009
The Parents Guide to Wisdom Teeth was created "out of frustration". It was written by an oral surgeon with over 20 years of clinical experience, who too often performs wisdom teeth removal on older patients. "Too often" because these patients could have had a much less risky, less difficult and more comfortable experience earlier in life, if during the teen years their parents only knew why TIMING was so important.
Wisdom teeth. Not perceived as a complicated, life-threatening or life-changing problem garnering the attention of the media, it has been relegated to tradition passed down through the generations: deal with them as they become a problem. After all, why perform a surgical procedure until it is really needed? But, is dealing with wisdom teeth really that easy?
Unfortunately it is not, because there are a myriad of potential issues that differentiate wisdom teeth from the other teeth in the mouth. These issues range from increased surgical risks, greater potential for decay and limited usage, all based on the location of these teeth in the back of the mouth, infections due to incomplete eruption of these teeth through the gum, and a host of other pathological conditions most parents have no clue about.
What parents also don't think about, that oral surgeons face every day, is the increased difficulty of removing wisdom teeth from an older individual. With that increased difficulty comes inevitably the potential for greater surgical risks, increased discomfort and prolonged recovery, as well as increased expense from a procedure that could have been easier, less risky, quicker to perform and recover from had it been done at a much smarter time.
The Parents Guide to Wisdom Teeth (TPGTWT) addresses all of these issues, presenting them in a clearly written, easy to understand fashion for parents with no dental background or training. It is a quick, but complete "mini-course in a book" on wisdom teeth.
TPGTWT quickly guides the reader through the important issues regarding wisdom teeth, creating a knowledge base for him/her to fully understand the importance of two key factors as related to timing of the surgery. He/she will also learn that the "ideal" time to deal with them is a surprisingly short period of time.
After reading TPGTWT, the parent, now with a much greater understanding, will be able to more confidently and intelligently interact with their oral surgeon when evaluating the wisdom teeth.
This is a book long overdue for parents of teens to understand a subject that is much more complicated and deserving of attention than they once thought. It also allows the dental surgeon the best opportunity to reduce risks and problems that wisdom teeth can cause the child over their lifetime.
*** Please note that while no surgical procedure is risk-free, even when timed correctly, this book presents information explaining why risk and difficulty increases over time. It is a gamble that parents must intelligently address for their child, in a timely fashion.
For more information: http://theparentsguidetowisdomteeth.com
ABOUT The author: Theodore J Grellner DDS is a board-certified oral and maxillofacial surgeon who completed his dental specialty training at the U.S. Air Force's largest hospital, Wilford Hall USAF Medical Center, in 1986. He has been in private practice in Tampa, Florida since 1989.
CONTACT
Theodore J Grellner DDS
15310 Amberly Dr.
Palm Lake Office Bldg, #195
Tampa, FL 33647-1646
(813) 972-3478
http://grellnerdds.com
# # #