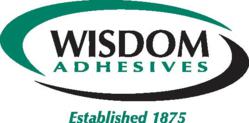 Elgin, IL (PRWEB) June 07, 2011
Wisdom Adhesives, North America's top mid-size manufacturer of high performance, environmentally safe industrial adhesives, announces the addition of two new regional sales managers to the company. Randal Wilmoth will head up Wisdom's new sales office to serve the Pacific Northwest area of the United States. Reuben Brock will lead Wisdom's Southeast office.
Wilmoth arrives at Wisdom with more than 20 years of experience in sales and management and has extensive experience with industrial adhesives, packaging, material handling and logistics. Most recently he served as the manager of H.R. Spinner Corporation's adhesive and coating distribution business in Yakima, Washington.
Brock brings a vast array of both adhesive and equipment talent to Wisdom Adhesives, having worked for over 20 years at Nordson and other organizations. Brock is based in South Carolina and will be growing Wisdom's business in the Southeast.
"We are thrilled to be welcoming Randal and Reuben to the Wisdom team," states Jeff Wisdom, the Chief Executive Officer and fifth-generation owner of Wisdom Adhesives. "They both have a strong commitment to business growth and place high value on good customer service, which make them great assets to lead our regional offices."
Founded in 1875, Wisdom Adhesives, North America's longest running adhesives manufacturing company, is fifth-generation owned and managed. Wisdom Adhesives is recognized as a top mid-sized adhesive manufacturer and supplier of environmentally safe and compliant water-based, dextrin and protein adhesives and has hot-melt capabilities that produce hot-chip and other specialty products for industrial users throughout the world. Wisdom supplies adhesives to a wide range of industries including Book Binding, Converting, Tissue and Towel, Graphic Arts, Packaging, Product Assembly, Textiles and General Purpose. The company also offers a wide range of tolling, packaging and private labeling capabilities.
To obtain more information, call 847.841.7002 or visit our website. Wisdom Adhesives' corporate headquarters is located at 1575 Executive Drive, Elgin, IL 60123
###