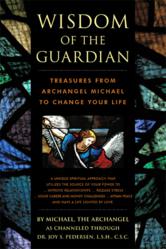 At no time in history has so much culminated to one end - the end of the separation between heaven and earth.
Wayne, New Jersey (PRWEB) October 31, 2012
According to many indigenous traditions, including the Mayan, Incan, Hopi and Vedic, we are in the midst of a big shift. Mayan timekeepers records indicate that 2012 marks the close of several large cycles of time: a 26,000 year Mayan Calendar cycle, a 78,000 year Earth cycle, a 26 million year Earth cycle and the 225 million Galactic Year.
Angels have been providing angelic healer and channel, Dr. Joy Pedersen, with messages that this shift is also the opening of heaven on earth. During these shifts, however, many people are panicking over the chaos of their own life and not realizing they are on the last legs of cleaning all their past that is contributing to their suffering now. They are purging that which does not work.
People feel and act as if the world is coming to an end, when the very opposite it true. We are just on the cusp of a very new beginning. The new beginning of heaven and earth as has been predicted for aeons of time.
In the book, "Wisdom of the Guardian: Treasures from Archangel Michael to Change Your Life", which Michael came to Joy Pedersen asking her to write, he shares a chapter on "Preparing for Heaven on Earth".
Some of his key points to assist mankind at this time include:
Bring all back into balance.
Pay attention to the world around you. How are you reacting to it? What are you doing about it? How are you participating in it?
"What you do about them will dictate the results you get. Experience the moment for what it is and learn from it. It is not shaping your destiny as much as your viewpoint is", says Archangel Michael.
Archangel Michael asks some key questions in "Wisdom of the Guardian", such as:
Are you living the life you desire?
Are you in the right relationship?
Are you doing the right thing for yourself and others?
Are you doing the best you can in any given situation?
Are you doing what is right and perfect according to God, or according to someone else's standard?
Are you acting out of need for money, out of greed or out of lack?
What is the basis for your choices? Do you make them consciously or unconsciously?
Archangel Michael strongly suggests taking stock of your life and how you are operating in it to make sure you are in alignment with the opportunities to come to be able to move into heaven on earth.
Dr. Joy S. Pedersen is a licensed spiritual healer who has been working with her international clients this year in helping them prepare for heaven on earth. "In many cases, I end up clearing their karma of all times they, as well as their ancestors, have turned away from God", says Pedersen. Through a spiritual process called, ho'oponopono, which is a Hawaiian term that means to correct or set aright, the client can be restored to balance. Because ancestors are included and we carry their memories, all included and affected by the situation worked on can receive a healing and be set free. The process helps raise their vibration, which helps prepare for heaven on earth.
Dr. Pedersen works virtually over the telephone or Skype and can be reached at 973.706.8212. For more information on her work, visit http://www.ExpressSuccess.net or email info(at)expresssuccess(dot)net
"Wisdom of the Guardian" may be purchased at any local or online bookstore or from the book website directly at http://www.WisdomOfTheGuardian.com. The book is available in hardcover, softcover and e-book formats.