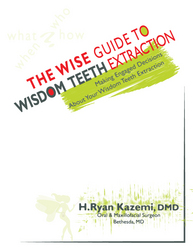 The Wise Guide explains all the facts about wisdom teeth extraction.
Bethesda, MD (PRWEB) December 16, 2010
Dr. H. Ryan Kazemi announces the online release of the definitive patient guide to wisdom teeth, The Wise Guide to Wisdom Teeth Extraction, available for download free at http://www.facialart.com/learning-center/e-books/the-wise-guide-to-wisdom-teeth-extraction/. Faced frequently with patient and parent questions and fears about wisdom teeth surgery, Dr. Kazemi authored The Wise Guide as a boon to consumers as well as dentists who can share the book with their patients.
The Wise Guide explains all the facts about wisdom teeth extraction, such as at what age and why the wisdom teeth should be removed; anesthesia options; what to expect before, during, and after the surgery; and even considerations when choosing a dentist or surgeon to perform the procedure. The book discusses in plain English how the third molars affect the mouth, bone, jaw, and gum under normal circumstances and when pain and infection is present, as well as potential complications such as pain and dry socket. The book also reviews how to prepare for surgery, what patients can eat following extraction, and the important home care instructions to help speed up healing and recovery.
Hailed by dental professionals as the definitive patient resource for wisdom tooth removal, The Wise Guide is an easy-to-read manual for parents and patients considering wisdom teeth extraction. "In my 25 years of practice, I have yet to find anything as comprehensive and precise on third molar surgery," remarked Dr. Brian Gray, a general dentist in Washington, DC. "This book is a must read for doctors and patients alike."
Washington, DC orthodontist Dr. Andrew Orchin also recommends The Wise Guide to his patients, describing the book as, "A comprehensive, yet clearly written and simple to understand, resource for patients to read and learn about all aspects of wisdom teeth and how to treat them."
"Patients have so many questions, and I like to take the time to answer them in detail and help allay their fears," explained Dr. Kazemi, who has performed over 60,000 wisdom teeth surgeries in his career. "I wrote this book to provide accurate information in layman's terms so people can make better and more engaged decisions about wisdom teeth extraction. I also wanted to eliminate misinformation and myths and provide practical recommendations so patients can realize optimal results, safety and comfort."
Making the book available online was a natural next step for Dr. Kazemi, who partners frequently with local and national dental professionals in providing surgical services as well as educational resources in oral surgery and practice management. Print copies of The Wise Guide to Wisdom Teeth Extraction make logical dental office waiting room material and may be purchased for $20 + $3.95 shipping and handling.
To learn more about The Wise Guide to Wisdom Teeth Extraction or Dr. Kazemi, visit our website.
About Dr. H. Ryan Kazemi:
Dr. H. Ryan Kazemi is an oral and maxillofacial surgeon practicing in Bethesda, Maryland since 1997, providing a full spectrum of procedures with an emphasis on extractions, dental implants, bone grafting and corrective jaw surgery. Dr. Kazemi received his dental degree from the University of Pennsylvania School of Dental Medicine and serves as a diplomat of the American Board of Oral and Maxillofacial Surgeons, and an active member of the American Association of Oral and Maxillofacial Surgery, American College of Oral and Maxillofacial Surgery, Academy of Osseointegration, American Dental Association, and Entrepreneur Organization.
###