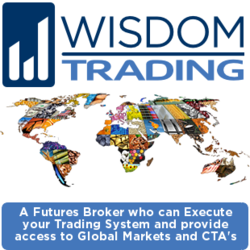 Our access to 300+ global futures markets coupled with successful and proven trading systems provide the perfect combination to benefit our clients.
Jupiter, FL (PRWEB) June 21, 2013
Wisdom Trading recently completed a full re-design of their website, and in doing so extended their clients' trading opportunities.
The futures broker, who "can execute your trading system and provide access to global markets and CTAs & managed futures" - as they bill themselves - is now offering multiple trading systems for their clients to choose from and have executed on their behalf. This allows investors to leverage the benefits of successful systematic trading from world-class system developers and traders without having to develop and manage their own system and trading strategies. This "hands-off" approach offers the best of both worlds by offering access to dynamic trading strategies in a passive way for the investor.
Shane Wisdom, founder of Wisdom Trading, comments:
"We can see more and more people looking for ways to diversify out of the more traditional investments but do not have the knowledge, time or expertise to turn to more complex trading or investment strategies. What our offering does is bridge that gap and allow our clients to benefit from these dynamic trading strategies in a fully managed way, to diversify and boost their portfolio performance.
Since we launched this new service, we have had many people expressing interest and opening accounts with these new trading systems. It is obviously what investors are looking for and we're delighted to be able to offer this service. In a way, it allows our clients to invest a in similar way to hedge funds or managed futures, but with added control, transparency and much more affordably."
Wisdom Trading is quickly furthering their position as a premier introducing broker for trading systems and global futures. They have long been recognized as the only official Trading Blox support broker (Trading Blox is a leading platform used to test and run trading systems) and also support over a dozen additional trading platforms. They can also boast renowned and successful clients such as EMC Capital, a systematic trading fund founded by the late "turtle trader" Liz Cheval, with several hundred million dollars under management.
Shane Wisdom: "I founded Wisdom Trading with the goal of providing our clients the best service and products focused on systems trading and global markets. I believe we have strengthened our position in this regard. In addition to covering over 300 global futures and options markets, we can cater to all kind of clients, large or small, clients who want their own systems executed on their behalf, clients who prefer to hire a managed futures or Commodity Trading Advisor (CTA), and now clients who want to access a wide range of world-class trading systems. We can also assist our clients with system design, development and portfolio selection. If you want to add systems trading to your portfolio, Wisdom Trading has an offering that will suit you."
Shane Wisdom cites the global futures markets access as another key element of his firm's offering. Wisdom Trading offers one of the widest coverages of global futures compared to other futures brokers. In addition to the most active futures contracts such as the E-mini S&P 500, treasury notes or crude oil or gold contracts, Wisdom Trading can also give their clients access to more exotic futures markets such as South African Sorghum, Australian Wool, Rubber or even Molybdenum.
Over 300 global futures in more than 50 exchanges are accessible for trading and, according to Shane Wisdom, a key to trading diversification and performance:
"With the added benefit of diversification for a trading system, new opportunities can be tapped into and possibly enhance performance. This is why we believe systems trading and global markets access go "hand in hand" and the reason they form the core of our offering. This is an area where many of our clients enjoy our help in designing and selecting a portfolio adapted to their trading system, trading capital and other criteria."
Wisdom Trading was founded in 2003 (as Wisdom Financial) and are also able to assist established funds with their trading operations, or help successful traders and clients start their own fund to manage external money. They are NFA-registered and have a clean regulatory record.
Wisdom Trading can be reached for more information at:
info(at)wisdomtrading(dot)com
Toll free (USA): (800) 854-8203
International: +1-949-933-0179
Wisdom Trading
601 Heritage Drive suite 440
Jupiter, FL 33458