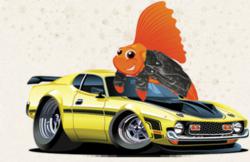 It's crazy how this one season comes with it so many financial responsibilities, and I'm not just talking about gifts.
Los Angeles, CA (PRWEB) November 29, 2012
RoadFish.com men's lifestyle and finance magazine today released their support of the Huffington Post's recently published guidance for holiday shoppers on how to avoid making major credit card flubs during the holiday season, such as overspending and damaging one's credit. RoadFish.com offers its own sage advice on how to get through the holiday season with an unscathed credit score report, recommendations that may increase consumers' awareness of their financial situations and gently remind them to be diligent about smart shopping.
Jeanne Kelly of the Huffington Post recently reported that, given the fact that it is officially one month until Christmas day, the shopping season has kicked into high-gear with Black Friday being the official opener. Kelly urges shoppers to be even more diligent this time of year than usual with their credit because over-swiping the card or recklessly opening new credit lines can seriously damage credit scores for months down the road. Her article claims to have seen consumers who are incredibly credit-conscious take great care from January until November with their credit habits, but come December neglecting their steadfastness.
RoadFish.com applauds the Huffington Post for bringing credit to consumers' attention, affirming that this is the time of year when shoppers need to be reminded that their financial decisions can have lasting effects. RoadFish.com's Senior staff writer is quoted as saying, "It's crazy how this one season comes with it so many financial responsibilities, and I'm not just talking about gifts. There are huge dinners to prepare, parties to throw, decorations to be bought, extra outings with visiting family and friends, and most likely even a higher electric bill due to the Christmas tree lights and outdoor light displays. Even a tree alone can run up to $75! That's why it's more important than ever for consumers to budget each and every purchase, and have a plan for paying back their debt if they do choose to use credit."
Kelly's article states that some consumer credit decisions this month may be paid back within a few months, but credit reports and scores take much longer to repair. She suggests attempting to close out the holiday season with credit cards having been used 20% or less of their limit, urging consumers to make a special occasion "Christmas budget" to ensure that credit cards get paid off as soon as possible after the holidays. She also recommends setting aside time in the busy social calendar for paying down bills and other financial obligations, that may fall to the wayside during the busy holidays but will definitely have a negative effect on credit scores if left unpaid.
RoadFish.com suggests using mobile financial apps such as Mint.com to keep finances literally at one's fingertips to track spending, and never shopping without a budget in mind. RoadFish.com's Senior staff writer is quoted as saying, "Before you spend any money, put a price tag on each category: gifts, food, going out. The average American spends between 1.6 and 2.2 percent of their annual income on gifts alone, which I think is pretty high. I think somewhere between one and 1.3 percent is more than enough, but that is a personal choice. Whatever percentage you pick, divide that up between each person you'll be gifting and stick to that amount. Use finance apps like Mint.com and your bank's app to stay on top of finances at all times. Things get busy, but that way you can literally take a peek at your checking account or pay an online bill while you're waiting in line somewhere."
Jeanne Kelly is the founder of the Kelly Group Credit Consulting, Inc. Kelly wrote "The 90 Day Credit Challenge" and has been featured on The Today Show as well as several financial radio programs. Her specialties include managing credit portfolios and addressing consumers' credit-related conundrums. Kelly has written for CNN, Money, and the NY Times in addition to the Huffington Post.
About RoadFish.com
RoadFish.com is an online men's lifestyle and finance magazine that caters to ambitious male readers in their 30's and 40's who embrace life goals and regularly seek out new personal and professional challenges. The online magazine offers advice for dating women as well as financial tips for men, such as how to avoid damaging credit. RoadFish.com is owned and operated by Purpose Inc.