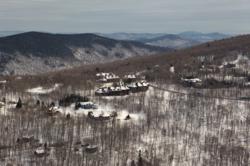 "We are so pleased at the Highridge community's confidence in us. We intend to bring a personalized level of service, while using progressive technology in order to help Highridge distinguish itself."- Sally Sweet, Owner, Wise Vacations.
Killington, VT (PRWEB) June 14, 2011
Wise Vacations, the Killington area's largest vacation rental company, has added a large Killington Condo complex, Highridge, to its portfolio of vacation rentals. Wise has been providing families and groups with quality lodging options in the Killington area for over 25 years. By adding Highridge to its portfolio, they will be able to offer their customers an even wider selection of vacation rentals to choose from.
"The innovative ideas are what really swayed me to have Wise Vacations become Highridge's exclusive rental manager. Sally Sweet has a totally different approach to marketing versus using only the traditional ways of the past. Sally and her team look to maximize rental opportunities by adding the most current high-tech solutions available to tested and successful past strategies."- John Scala, Board Member, Highridge Condominiums.
The Vacation Specialists at Wise help guests plan their entire vacation in any season of the year. With so many Killington lodging options to choose from, it can be a daunting process for families and groups to find the right property. The staff will help guests choose between a private home, a condo, or a townhouse; and among many amenities like a hot tub, ski in/ski out access, or a Clubhouse on site, depending on a group's budget and desires. In winter, lift tickets and lessons can also be booked through the Wise Vacations office. In summer, Wise Vacations has relationships with two Killington area area golf courses and thus can book tee times for guests prior to their arrival.
Best of all, Wise Vacations offers its guests an exclusive program, The Wise Discovery Deal Pass. This program offers all guests, completely free of charge, seasonal and year round activities and amenities each day of their stay. Partnering with local establishments, Wise offers its guests free DVD rentals, free golf, free ski/snowboard equipment, and free sleigh rides.
With the addition of Highridge Condominiums, guests will be able to take advantage of all that the Killington has to offer in any season. In winter, guests have ski home access, an onsite Clubhouse featuring indoor pool, hot tub, exercise room, and more. In summer, guests enjoy being situated right on the Killington Golf Course, having easy access to Killington's Mountain Biking Trail system with ride home access, and lastly, two clay tennis courts. Of course in any season, the spectacular views these upscale accommodations offer will provide guests with lasting vacation memories.
About Wise Vacations
Wise Vacations is a locally owned and operated full service vacation rental company and has been doing business based in Killington, VT for over 25 years. For more information and to book a Killington or Smugglers' Notch vacation visit http://www.wisevacations.com or http://www.smugglersvacationrentals.com
# # #