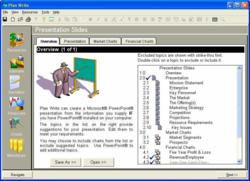 For those who begin the planning process on their own but find themselves in need of help, the professionals at Wise are always ready to step in
Business Plan Writing Nationally (PRWEB) January 09, 2013
Wise Business Plans, a company that provides individualized, custom-designed business plans for start-up and expanding businesses, is pleased to recommend its top choices for business owners looking for a do-it-yourself option.
"We exist to help companies of all sizes make smart business planning decisions," said Joseph Ferriolo, director of Wise. "But we also respect that some people like to work things out for themselves. Helping our clients make smart decisions sometimes means guiding them in the right direction before they spend money on software or other business counseling."
Of the software programs now available, Ferriolo says Business Plan Pro, BizPlan Builder, Ultimate Business Planner and BizPlan.com are the most intuitive and thorough.
Business Plan Pro, which offers a 60-day money-back guarantee, includes an automatic plan review and built-in research data. Users say they find it both easy-to use and flexible. Standard and premier versions of the program can be downloaded for Windows computers at businessplanpro.com.
Jian's BizPlan Builder, which includes the ebook "Comprehensive Handbook of Business Planning," not only creates plans but also helps prospective business owners turn those plans into polished presentations. It is available for Windows systems at jian.com.
And Ultimate Business Planner bills itself as the easiest, step-by-step planning software available, with a detailed walkthrough in "plain English" and a system broken down into two pieces: financials and complete plan writing. The Windows-based software can be purchased at abs-usa.com.
For Mac users, Wise recommends BizPlan.com, which allows business owners to access their plans on any system or browser. The program also includes an in-depth guided plan builder and an option to share your plan with others.
For those who begin the planning process on their own but find themselves in need of help, the professionals at Wise are always ready to step in, said Ferriolo.
"We know the planning experience can be daunting," he said. "That's why Wise exists -- to take the confusion out of the process. We want business owners to feel empowered and in control of the planning process, whether they go it alone or work with us. At our heart, we are all about the success of America's biggest economic asset: independent business owners."
Wise Business Plans (wisebusinessplans.com / 800-496-1056), staffed with professional MBA writers, researchers and financial experts, is a trusted partner for businesses across a broad spectrum of products and services. Our mission is to empower our clients to make the best possible business decisions, boost company performance and facilitate their funding success by laying the groundwork for strong businesses that excite, inspire and retain talented and exceptional employees.