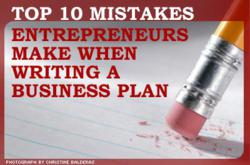 Avoiding common mistakes in your business plan can help you avoid mistakes in your business practices.
National Business Plan Writing Company (PRWEB) February 25, 2013
A business plan is a written handshake and an advocate for the company and ideas it represents, standing in for the business owner long after a funding meeting ends. While many entrepreneurs woudn't dream of wearing the wrong tie or scuffed shoes, business plans are frequently full of mistakes that could have been easily avoided.
Wise Business Plans, a company that provides individualized, custom-designed business plans for startups and expanding businesses, says the following common mistakes can wreak havoc on an otherwise picture perfect investment meeting.
1. The plan is poorly written. "You may have perfectly aligned charts full of great information, but if your plan is filled with grammatical and spelling errors or takes the wrong tone, potential investors will get nervous," said Joseph Ferriolo, director of Wise. "A poorly written plan makes a sloppy immediate impression and makes investors feel like you are willing to cut corners on other things." Before showing the plan to anyone, spell check, reread and get professional help if necessary. And remember there is more to writing well than just spelling and verb tense. "Don't get overly wordy," Ferriolo said. "Remember that time is money. Honor the time investment of your reader by being short and to the point, but do make sure you say every thing that needs to be said."
2. The financials do not make sense or are unrealistic. Venture capitalists and prospective investors want real details, not dream numbers that will never come to fruition. "Don't misrepresent your business or false advertise with pie-in-the-sky financials," said Ferriolo. "But don't underplay yourself, either." And pay attention to your math: If your numbers don't add up, investors willl think twice before trusting you with their money. "Getting the financials right is so important, but it's so often wrong," said Ferriolo. "It's one of the best things we do for clients -- helping them get those numbers right."
3. The size of the industry is not defined. Be a big fish in a small pond or a strong, well-planned and growing fish in a big pond. But know where the company fits into it. Different industries require different approaches. If the company does not know the industry, they can't succeed in it. "A lack of industry research is a dead giveaway that you are new to the business-building process," said Ferriolo. "The fact is, people who know their industries are a better investment. Even if you really are new to your industry, good research can go a long way."
4. The target market is not defined. "I can't emphasize this enough: Know your target market," said Ferriolo. "Your success hinges on the wants, needs and habits of your potential customers, clients or consumers. Absorb anything about the target market and show off that knowledge in the business plan. The investors want to believe you eat, sleep and breathe facts about the people you are pinning your success on."
5. The competitors -- direct or indirect -- are not listed. If the company is not fully aware of the competition, they are not truly in a position to compete. Don't just be aware of the basic facts about the competitors; have a ready answer for questions about how the company plans to do things in a better, more efficient or more market-capturing way. And if it seems like the company has no competition, dig deeper. "Every good business idea has some kind of competition," said Ferriolo. "Think ahead -- if you business succeeds, what will the marketplace look like in a few years?" And be honest about who the competition is. Don't assume potential investors aren't aware of the possible players in the market. They may have even been approached by the same people.
6. The plan does not clearly address the competitive advantages. This dovetails with the point above. Business is a battle, said Ferriolo, and investors want to see your weapons. "No matter what competitors you find, plan for a fight and make sure you let investors know why you can win it." But remember that you are selling your self and your business, not selling against someone else's ideas. Showcase what makes you the best, rather than focusing primarily on another business's failings.
7. The plan is too long or too short. A finished and fully designed business plan will ideally be around 30 pages, said Ferriolo. Too short, and investors feel like they are not getting the full picture. Too long, and they may stop reading. "It's tough to find a balance between not giving enough information and giving too much. And business owners are understandably passionate about their ideas. But keeping a plan thorough but manageable is key. At Wise, we instruct our staff MBAs to help clients maintain a length that is around 30 pages, including charts and graphics."
8. The plan has a poor layout and presentation. Like those ragged cuffs you wouldn't wear to a job interview, a poorly designed business plan looks amatuer and implies that your don't pay attention to detail. "In business, your reputation is key. Make a good first impression and maintain a professional reputation with a business plan that is clean, graphically pleasing and easy to navigate." A well-designed plan includes a professional cover and is low on frills but high on graphic cues that help the reader follow the information. And charts should be clean and highly readable. Watch out for missing page numbers, and include a table of contents and, if necessary, and appendix of additional information.
9. The financials are not pro forma. The business plan is essentially a map for the future, and it needs to be forward looking. While pro forma financial statements may be organized similarly to historical statements, they are more like a forecast and allow room for creative projection. "Be prepared to back your projections up, but use pro forma financials as a way to show investors how your business can and should perform." Pro forma statements are not set in stone; rather, they should present a vision of dynamic but achievable future success.
10. The research is not sourced or sited. Expect investors to check and confirm your research. Back everything up with sources that are reputable and respected in your industry, and never expect a potential investor or venture capitalist to just take your word for it. "Good, sited research is so vital to a quality business plan," said Ferriolo. "It's like having a witness in your corner, backing up the facts you're presenting. Don't look at citing research as a chore; look at it as foundation and support for the case you're making on behalf of your company." All Wise business plans include up-to-date, in-depth research that is fully sited.
Avoiding common mistakes in your business plan can help you avoid mistakes in your business practices, said Ferriolo, adding that the greatest utility of a good plan is its value as a tool for its creator.
And never be afraid to ask for help, he said.
"I've said it before, but let me say it again: You have to know when to call in an expert. Don't hand over a plan full of errors. There's help available that can make sure you -- and your -- business -- are showcased in the best possible manner."
Wise Business Plans (http://www.wisebusinessplans.com), staffed with professional MBA writers, researchers and financial experts, is a trusted partner for businesses across a broad spectrum of products and services. Our mission is to empower our client base through the creation of affordable, professional business plans filled with applicable strategies that place them in the best position to realize success in all phases of their respective business growth cycles.