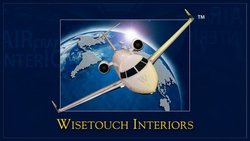 Beautiful work absolutely beautiful! We need to get peoples attention on this. Your list of capabilities is impressive not to mention how efficient when multiple services are required.
Opa Locka, FL (PRWEB) September 3, 2010
The current facility and staff at Wisetouch continues to grow and expand, meeting the needs and requirements of its clients. With over 100 years of combined aviation knowledge, the highly trained staff supports the needs of its very unique and diversified clientele in a personalized fashion. Our program managers become a working extension of the customer, building a level of trust and confidence while developing a relationship with each aircraft it services.
The fleet of Mercedes mobile detailing units provides the customer with service patterns specifically designed to support client schedules. Each unit is fully equipped with high-tech equipment insuring each job is performed to meet and exceed client standards.
Wisetouch Interiors and its president, Julio D. Somarriba, have been featured in several trade magazines, such as Business Jet International, Aircraft Airliners and the Palm Beach Post. With over twenty years in the Aviation field, Julio has worked on several programs such as Airbus, Gulfstream, Bombardier, Hawker, Cessna, and Falcon Jet. With hundreds of hours logged on different aircraft, Julio's caring and understanding of a client's satisfaction is apparent with each successful service his crew performs.
Exterior Detailing- requires that trained technicians follow a set process insuring each and every aircraft is serviced correctly. We believe that the right products, equipment and methods greatly decrease the risk of a job being done incorrectly. The term 'detailing' extends itself beyond the washing of the aircraft. Exteriors require polishing to remove scratches and blemishes, degreasing, brightwork and landing gear treatment: among many of the services offered at Wisetouch.
At Wisetouch, our mobile detailing crews are industry-trained professionals skilled in all the technical procedures and products. We service every model of aircraft, even those considered more challenging to polish or detail. The exterior life of an aircraft relies on a proper servicing schedule, reducing corrosion and foreign materials which attach themselves to the aircraft while in service.
Interior Detailing- At Wisetouch we specialize in executive interior detailing. We believe in enhancing the natural beauty of the interior by using the best methods, products and processes in our detailing service. Our skilled technicians approach these services with the same dedication and diligence used when steaming and shampooing a carpet or moisturizing leather seats and panels. Our range of talents includes cleaning mirrored surfaces, detailing hardware, cleaning the latrines or galleys, and polishing wood trim and applications.
We never overlook any aspect of the aircraft, as each area is meticulously inspected and proper processes are applied. Our success and client satisfaction is based on a mastered understanding of the correct combinations needed to complete each task. Our company principles are not only in accordance with industry standards, they greatly exceed them.
Capabilities:
Leather Moisturizing
Carpet Cleaning and Shampooing
Headliners and Valance Panel Cleaning
Suede and Fabric Specialization
Wood and Veneer
Marble Cleaning
Plated Part Polishing
Galley
Cockpit
Latrines
Bedrooms
Mirrors
Hardware
Complete interior services, with program managers overseeing all aspects of the process.
Technical Field Services,
Removal and Re-installation,
Leather Restoration,
Cabinetry and Galley Modifications,
Full Upholstery Shop,
Headliners and Valance Panels,
Carpets and Runners,
Complete Interior Detailing and
Engineering Consulting and Flammability Services.
Speak with one of our talented staff members, who will help guide you in identifying and solving any situation you may currently be dealing with. Or visit our Detailing and Program Management sections and find a service that's right for you.
Wisetouch Interiors Executive Aircraft Services
Press Release by: Benton-Gele' Business Solutions
###