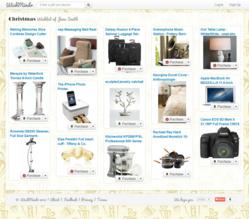 Los Angeles, CA (PRWEB) November 14, 2012
This holiday season consumers can forget about the headache-inducing, shopping mall madness that eats up December nights and weekends. Instead, shoppers can save time and gas money by using the internet to get holiday shopping done.
One of the easiest ways to do this is through WishMindr (wishmindr.com), a new gift list website launched in early November. A free wishlist and reminder service, WishMindr lets shoppers know what to buy their loved ones and minimizes the time-consuming return process, after the holidays are over, by making sure people get the gifts they want, from the start.
Differing from other reminder services on the net, WishMindr has a unique twist. "Instead of setting up reminders for yourself, for the occasions of friends and family, you can set-up reminders for them for your occasions," explains John Wright, WishMindr CEO. "The email reminder we send contains a link to your wishlist so they will know what you want. It also invites them to join and setup a reminder for you, for their special occasions."
While similar to an online gift registry, the site is designed to be less formal and easier to use. It can be used by kids and parents, or just between close friends. For each occasion, users can set-up a reminder for as few as one or two close friends, who can forward it to other friends, too.
"Our goal in creating this service was to go beyond what other reminder-based websites and wishlist-only platforms offer," says Wright. "While most services offer generic lists, WishMindr allows users to browse thousands of product images from many popular places such as Amazon and eBay through an engaging, Pinterest inspired layout."
That's helpful for parents and busy professionals. A platform that simplifies comparison shopping yet is exciting enough to keep kids entertained without the pre-holiday, shopping mall mayhem can save considerable time.
Here's how it works:

Create a wishlist. Users create as many wishlists as they want and then search for items from leading online retailers.
Browse images. Each search produces an array of items that fit the description. Users click on pictures to browse the product in further detail and add items to the wishlist.
Add contacts. Contacts can be imported from email services or entered manually.
Set reminders. WishMindr sends notifications to contacts which they can opt-out of or accept. Reminder emails containing wishlist images are then sent automatically 30 days prior to the event.
To set-up a wishlist for the upcoming holiday season, a birthday, a wedding, a baby shower, or other special occasion, visit wishmindr.com.
###
WishMindr (wishmindr.com) is a free online service that allows users to create gift wishlists for birthdays, holidays, and other special occasions. Users create wishlists by browsing images of thousands of products found at popular stores such as Amazon, eBay, Shopstyle.com, Shopping.com, and more. Once a list is created, users can easily add contacts from Yahoo! or Gmail accounts and set-up automatic reminder emails to let friends and family know their gift wishes.