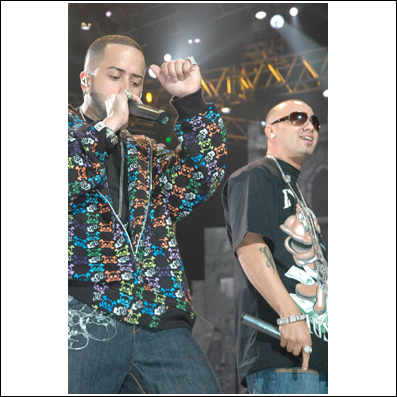 The nominations and all the recognition we have received for our efforts and those of our staff represent a major honor for all of us. This also inspires us to continue working hard to create excellent productions
San Juan, PR (PRWEB) December 19, 2006
Wisin and Yandel's career continues to skyrocket, with the Duo that is making history attaining greater recognition in the music industry and dominating the top positions in the charts. At the close of 2006, a year in which Wisin and Yandel reached new heights, the Duo received three nominations from Premios Lo Nuestro including Artist of the Year, Album of the Year for their "PAL' MUNDO production, and Song of the Year for "Llamé Pa' Verte."
"The nominations and all the recognition we have received for our efforts and those of our staff represent a major honor for all of us. This also inspires us to continue working hard to create excellent productions," commented Wisin. Fans who wish to vote for Wisin and Yandel in Premios Lo Nuestro can do so by accessing http://www.univision.com.
Wisin and Yandel further succeeded in positioning themselves among the top recording artists on Billboard's Hot Latin Songs during 2006. The Duo occupies the No. 9 position in the charts for "Atrévete" featuring Franco "El Gorilla" from the album CHOSEN FEW II, while "Pam Pam" from their PAL' MUNDO album continues to occupy the tenth position, as well as the top positions in the prestigious music channel MTV3 in the U.S.
The Christmas season was no excuse for the Duo to slow down their work schedule. Instead, Wisin and Yandel continue to work arduously and in the upcoming days will commence recording a new music video, which is schedule to be completed by the end of the year, for the song "Nadie Como Tú" featuring Don Omar and included in the recently released "Los Vaqueros" CD.
As part of their ongoing promotional tour, Wisin and Yandel will be traveling to Miami this week. When they return, the Duo will embark on a journey to different cities throughout the Island, bringing joy and gifts with the support of Malta India to disadvantaged children.
In 2007, Wisin and Yandel will continue conquering new markets and reaching new heights with an aggressive calendar of events and presentations, including the first reggaetón concert at the renowned Radio City Music Hall in New York City, a concert in Altos del Chavón in the Dominican Republic, and a major concert event that is destined to make history once again at the José Miguel Agrelot Coliseum in Puerto Rico, among other commitments.
HALO COMMUNICATIONS
Lourdes Pérez 787 370.4555
Jailyn Pérez 787 777.0623 x34
###