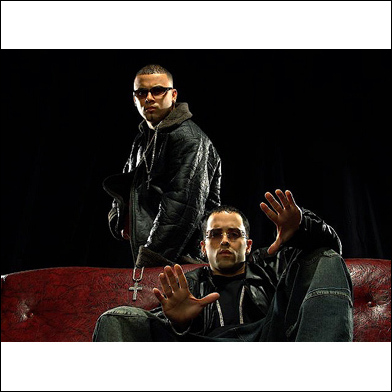 This year we are more than motivated to work hard and offer our fans the quality of music they expect from us
San Juan, PR (PRWEB) January 8, 2007
Wisin & Yandel, proclaimed "The Historical Duo", accomplished a pinnacle feat in their career during 2006 by placing an extraordinary 14 tracks on the Billboard charts according to the prestigious music industry magazine. And by the looks of this week's charts, 2007 seems to be following the same trend for this exceptional duo.
Their album, Pal Mundo, continues to dominate the Hot Latin Albums lists a whopping 60 weeks after its release, remaining in the top 10 after occupying several weeks in the #1 position. Their most recent release, Los Vaqueros, a compilation of songs by artists under W&Y Records, continues to occupy the #6 position after 8 weeks of its release. Wisin & Yandel's smash hit "Pam Pam" also continues to occupy the #4 position on the Hot Latin Songs List after 29 weeks and having been at #1 position for several weeks.
"We are extremely pleased with the support we are receiving from our fans," Wisin & Yandel stated. "This year we are more than motivated to work hard and offer our fans the quality of music they expect from us," the duet affirmed.
W&Y Records also took the opportunity to announce the availability of tickets for their concert in the José Miguel Agrelot Coliseum on March 16th, 2007. Tickets are available through the Ticketpop.
The first months of Wisin & Yandel's artistic calendar will be very hectic. On Friday, January 5th, the duo will present their show at the Paul Van Dyke Concert at the Puerto Rico Convention Center. During the following days they will film a video for the song "Nadie Como Tú" featuring Don Omar from the Los Vaqueros album.
The duo will continue with a series of artistic presentations in Latin America that includes Bolivia on January 17th and Costa Rica on the 19th. On January 27th they will participate for the first time in a concert in Altos del Chavón, Dominican Republic, and at Radio City Music Hall in New York. In both instances, this will be the first time that a Reggaetón act will be perform in these prestigious venues.
# # #