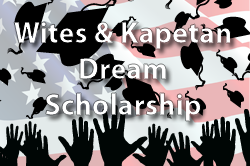 Dream Scholarship will award $5,000 in scholarships to Brazilian and Hispanic students.
Lighthouse Point, Florida (PRWEB) July 03, 2012
Every penny counts when it comes to saving for tuition, books and living expenses at America's colleges, universities and technical schools. For several outstanding students of South and Central American heritage, the dream of a higher education will soon be a little easier thanks to Wites & Kapetan, Florida based immigration attorneys. The law firm, which was founded in 2001 and has long supported the Brazilian and Hispanic communities, just announced the launch of its Dream Scholarship, which will award $5,000 in scholarships to Brazilian and Hispanic students.
The Wites & Kapetan Dream Scholarship is named for the proposed Dream Act, after which President Obama modeled the newly signed Deferred Action immigration order, and supports students eligible under the order. Applicants must meet all the following requirements as of the date of the submission of their application for the Scholarship:

applicants are at least sixteen years old, but no older than thirty,
were brought to the U.S. before they were sixteen,
have lived in the U.S. for at least the last five continuous years,
be (or plan to be) enrolled as a full-time student at any accredited college, university, technical or vocational school in the United States in the fall of 2012, and
be of either South or Central American descent (including Mexico).
Applicants must submit an essay of at least 500 words on the topic "Why I Want to be a Citizen of the United States of America." Wites & Kapetan will also consider letters of recommendation, grades, test scores and community service, in choosing the winners. The application deadline is September 14, 2012.
Wites & Kapetan will announce this year's winners by October 1, 2012. The first, second and third place winners will receive $2,500, $1,500, and $1000, respectively, explained Marc A. Wites of Wites & Kapetan. Marc also noted that the scholarship funds may only be used for tuition, lab fees, and/or books during the 2012-2013 school year. The firm will issue the funds directly to the winners' respective schools.
Alex Kapetan explained that he was very excited to once again offer the Scholarship, something that firm has done several times in recent years. Past winners include Aryanne Schommer (a graduate of Monarch High School of Coconut Creek who attended St. Thomas University), Pedro Falci (American Heritage School/Boston University), Diogo Alves (J.P. Taravella High School/Brown University), Mirna Martinez (Glades Central Community High School of Belle Glades/The University of Florida), Steven Rios (Boca Raton Community High School/ Florida Atlantic University), and Carolina Handal (Palm Beach Central High School/The University of Pennsylvania).
Marc Wites and Alex Kapetan are no strangers to big dreams, or the opportunities available in the United States. Both Wites' and Kapetan's grandparents immigrated to the United States from Europe and, through hard work and education, their families have prospered in America. Now, Marc and Alex want to give back to the community, and help others achieve the same dream their families had the opportunity to pursue when coming to this country years ago.
Information about the WKPA Dream Scholarship, and the newly passed Deferred Action Dream Act Immigration Law, are available at http://www.wklawyers.com.
Wites & Kapetan, P.A., represents only persons injured by the wrongful conduct of others. Our practice areas include immigration law, personal injury and wrongful death actions, consumer debt and bankruptcy, class actions, and brokerage disputes. The firm's attorneys are dedicated to offering the highest caliber legal representation in both federal and state trial and appellate courts, as well as in arbitrations. We use our experience, skill, resources and dedication to obtain the best possible results for our clients in Florida and throughout the country.