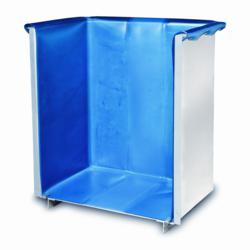 Forty years is a major milestone for any business, especially a small family owned concern
Claremore, Oklahoma (PRWEB) January 10, 2012
Witt Lining Systems, which manufactures drop-in PVC liners for corrosion control in tanks, pits, sumps and containment areas, marks 2012 as its fortieth year of business.
"Forty years is a major milestone for any business, especially a small family owned concern," said President Andrew Hotchkies. "It's a measure of our success in terms of the value and quality of our products and what we have to offer. Our longevity is due to the quality of the people we employ, and the great business relationships we've established."
Witt Lining Systems started as F. C. Witt Associates, Ltd in 1972. Located in Lombard, IL, founders Casey and Jackie Witt started the company based on what they saw as a lack of customer service in the tank lining industry. "It seemed other companies just wanted to sell something and you had to take what they offered. Our goal was to be a business partner with our customers and grow our business right along with theirs" said CEO Jackie Witt.
Due to the company's growth, relocation was made to Claremore, OK in 1991. Shortly thereafter the company expanded on their present location adding an additional 16,000 sq. ft. of manufacturing and office space to the existing 30,000 sq. ft. facility.
With the passing of Casey Witt in 1997, the company was renamed Witt Lining Systems and Andrew Hotchkies assumed the office of President. "We've continued Casey's spirit of business partnerships and developing long standing friendships with the people we do business with" said Hotchkies.
In looking forward to 2012, Hotchkies noted that the company is looking for a record sales year. "We have seen a real uptick in business potential both domestically and internationally. The past year alone we have seen sales to Belgium, Vietnam, Jordan, Australia, and Malaysia. The international market continues to grow for us and I'm seeing capital expenditures increasing at a nice pace here at home as well." Hotchkies also added that the company is looking to hire additional employees in 2012 as part of its continued growth.
"The transition after Casey passed away was a difficult time both personally and business wise, but I think he would be proud of what we've continued in his name", Hotchkies said.
Witt Lining Systems is located in Claremore, OK. The company manufactures flexible PVC liners used for corrosion resistance in process tanks, storage tanks, vasts, sumps, pits, and containment areas. PVC brands include Spectra Blue, Exceline and Koroseal PVC along with NSF-61 PVC and Teflon liners. For more information contact 1-800-323-3335 or visit http://www.wittliners.com
###