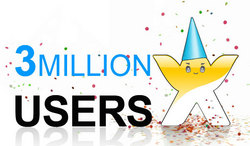 We initiated a wish list forum that allows our users to contact us directly and share their thoughts and ideas with us. They can suggest new features and developments they'd like to see at Wix and vote for suggestions that are already on the board
New York, NY (PRWEB) March 2, 2010
Wix.com is a burgeoning start up in the field of website creation. It has developed a sophisticated and powerful website builder that uses a graphic user interface and is intuitive and easy to use no matter what experience level and background the user comes from. In addition to its free website builder, the website provides oodles of free Flash templates, created using the same builder software, that are easily customizable.
The Wix Company was first established on February 28th, 2006, which means that this past Sunday they celebrated the company's fourth year in existence. The company came out with an open beta version in the summer of 2008 and as a measure of the company's achievements over four busy years, it has recently crossed the three million landmark. Over three million users have published a Flash website using the Wix technology.
Starting with a simple and basic website builder, the company is constantly updating its software, keeping ahead of the competition. Over the past few months new galleries, widgets and templates have been introduced, in addition to recent collaborations with various online groups and companies, one in particular with the flickr image database, makes it possible for users who are creating a website with Wix to purchase images from the flickr database directly from the editor.
Keeping up with their client's demands and wishes is something that Wix co-CEO Avishai Abrahami is extremely proud of: "We initiated a wish list forum that allows our users to contact us directly and share their thoughts and ideas with us. They can suggest new features and developments they'd like to see at Wix and vote for suggestions that are already on the board. This lets us know exactly what are users are craving and where they'd like to see the builder go next. It also allows us to prioritize the developments while staying connected to our users and their needs. We also have a general forum where we communicate with our users. I believe that it's our commitment to serving our users as a community that helps us stand out."
Wix was established in 2006 and has its headquarters in NY and offices in Tel-Aviv. It is backed by Mangrove Capital Partners and Bessemer Venture Partners. More information on can be found at http://www.wix.com .
###