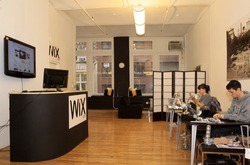 For a business owner or entrepreneur to be able to receive free, one-on-one support lets that individual get the help he or she needs, in the most direct way possible.
New York, NY (PRWEB) January 18, 2011
A few weeks ago, internet start-up Wix.com opened the Wix Support Bar, providing free, in-person support for users of Wix' website builder platform. Users receive help with anything relating to their site, from using Wix' free online platform, to setting up an account with Google Analytics in order to track the performance of one's website creation.
Wix itself consists of a powerful drag & drop platform that allows for the easy creation of customized Flash websites. An impressive collection of free website templates divided by niche are fully customizable so users can transform pre-designed websites into their own unique sites. The tool is free and extremely useful for small business owners, entrepreneurs, artists, non profit organizations and hobbyists seeking to promote themselves online with a customized website.
The Wix Support Bar makes the whole process even easier, providing users with free, in-person support on how to make a website with Wix' free website builder. The Wix Support Bar is located inside the Wix Lounge - a posh, loft-style free workspace open to the public in August of 2010.
Here's how it works: 1-hour sessions by appointment are given from 10am - 6pm, Monday - Friday. Walk-in hours are between 3-5pm, Monday - Friday. The sessions are offered entirely for free, and consist of a Wix expert walking users through any website-building issues. If the session requires more time the user can schedule a follow-up appointment, also free of charge.
Founder and CEO of Wix.com, Avishai Abrahami, comments: "For a business owner or entrepreneur to be able to receive free, one-on-one support lets that individual get the help he or she needs, in the most direct way possible. We're thrilled to offer this extra customer service initiative to our beloved Wix Community, and are excited to connect with our users at this level."
Wix is a market leader when it comes to web design and creation. Innovation and communication are cornerstones of Wix' philosophy. The company is highly attuned to the needs of its users, constantly churning out new product features, improving the ease of use of its platform. Wix recently launched the Spanish version of its free website builder, catering to the needs of its already large Spanish-speaking market. The Support Bar marks a continuation of the product-user relationship.
Abrahami says, "The Support Bar actually offers help in two directions; our users teach us a great deal about how to improve our product, and the Support Bar will no doubt provide a new channel of communication, giving us fresh new ways of thinking as we continue to improve the user experience."
To make an appointment for a free Support Bar session visit the Wix Lounge website - a site itself built with Wix. Click on Support Bar > Sign Up, or e-mail ariele [at] wix [dot] com to schedule an appointment. The Support Bar is also open for walk-ins during most of the web-related events hosted by the Wix Lounge. Details are found on the Wix Lounge website.
Wix.com was started in 2006 and is based in New York, with offices in San Fransisco and Tel Aviv. The company is backed by investors Mangrove Capital Partners, Bessemer Venture Partners and Benchmark Capital. Access to the Wix platform and all templates is free by signing up at Wix.com. Premium packages offer advanced web features like connecting to one's own domain and the ability to sell products from inside one's site. The Wix Lounge is located at 10 West 18th Street, on the 2nd floor, in Manhattan's Chelsea neighborhood.
###