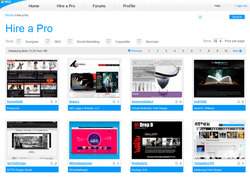 Users can hire a Wix Pro – an expert specializing in web-related fields ranging from graphic design to online marketing – for highly targeted assistance in website creation.
New York, NY (PRWEB) September 15, 2010
Wix.com is a tool that allows users to build stunning Flash websites without knowing code. The platform enables free website creation through use of an intuitive and colorful graphic-interface - eliminating the need for unnecessary downloads and manual coding. Wix creates opportunities for small business owners, artists and entrepreneurs to present themselves professionally, to grow their business and to take advantage of new technology on the web.
The Wix Arena is a directory of freelance web professionals dedicated to the Wix platform. Users can hire a Wix Pro – an expert specializing in web-related fields ranging from graphic design to online marketing – for highly targeted assistance in website creation. Clients are able to browse the Pro Arena by location and area of specialty. Clients may then contact the listed pros directly on the site. Featured Wix Pros work at their own rates, taking on as many projects as they wish to handle.
New features of the Wix Arena include better site navigation, and more detailed Pro profiles, making it easier for users to select the best Pro for their particular needs. There are plans for the future to even include a page with client comments, as a form of advanced quality control.
The experts for hire on the Wix Arena are freelance designers and web professionals chosen by Wix staff based on portfolio reviews, reliability and professionalism. Beautifully executed website design, strategically written web copy, and well-planned marketing strategies can be provided, all priced at a fraction of agency rates.
Pro Arena client Eric Naslund, says, "The Wix designer, 360CreativeMedia, took our ideas and our thoughts about our brand identity and made them work in ways that satisfied our needs and made our web presence much more effective . . . She is adept both technically and artistically, and that is a rare combination." You can visit Eric's site at http://www.studioearchitects.com.
Another Pro Arena client, Carl Shusterman, remarks, "I have never ceased to be amazed by Wix designer ChiOri Media and his knowledge of the Internet (Web 2.0 development strategies and design work). I have been a webmaster for over 15 years, yet Birdie is light years ahead of me in terms of understanding and utilizing the power of the Web on Wix. He is my designer of choice and the ideal professional for redoing my website." Carl's site is http://www.gothamsportmanagement.com.
Wix Pros will benefit from the new Arena as well. Pros will be rewarded for their success on the directory. Some perks include priority listings on the Arena, and free web design including stock photography, icons and fonts. Wix plays no role in the relationship between Wix Pros and clients once contact is made. Contracts, rates and deadlines are discussed by the Wix Pro and his/her potential clients.
Los Angeles designer Kris Fitzgerald has been using the Wix platform for several years, averaging over 10 new projects per month. "The Wix platform has become an essential asset to my web design business," Kris notes. "I'm now able to offer more clients the versatile and exciting elements of Flash for a fraction of the traditional price, which has increased my profits and portfolio."
To hire a Wix Pro for your website needs, or to learn how to become a Wix Pro, visit the Arena or email care(at)wix(dot)com.
Wix.com was created in 2006 and is funded by Mangrove Capital Partners, Bessemer Venture Partners and Benchmark Capital. The company is based in New York, and has offices in Tel Aviv. Wix is currently home to over 5 million websites, a figure growing at a rate of about half a million new users each month.
###