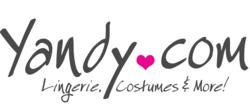 PHOENIX, Ariz. (PRWEB) October 04, 2012
Customers will not have to search over the rainbow for Wizard of Oz costumes this year because Yandy.com, online retailer of lingerie and adult Halloween costumes, offers all of the favorite classic movie characters in one place.
Yandy makes shopping for sexy Oz costumes easy by offering them all in the convenient Wizard of Oz costumes category. Yandy's collection of Wizard of Oz costumes boasts nearly 30 different costumes. Of course the obligatory Dorothy costumes are available in a variety of styles but other favorites include the Glinda the good witch and scary Wicked Witch costumes to round off the iconic cast.
The options do not end at Dorothy and witch costumes, however. Other Yandy favorites include the courageous lioness costume with a plush, faux fur trimmed dress and attached hood and the sexy scarecrow costume with floppy hat, crop top with patches and skirt with attached straw hemline to name a few.
In addition to offering a wide variety, Yandy's selection of Wizard of Oz costumes are also easily affordable with prices starting as low as $23.95. Yandy also offers a few deluxe, boutique Wizard of Oz costumes for those looking to spend a little bit more for higher quality options.
Not only are there so many Wizard of Oz costumes to choose from in one convenient place, but every Yandy shopper also receives free, flat rate shipping on orders over $70 and a free panty with every order.
About Yandy.com
E-commerce is on the rise and Yandy.com is one of the largest online retailers of lingerie, sexy Halloween costumes, swimwear and clothing on the web. Founded in 2003, Yandy boasts more than 6,500 products always in stock at easily affordable prices. Yandy ensures that every customer will receive a safe, secure and private online shopping experience and is backed by COMODO online security and Google Checkout. Yandy is dedicated to customer service and only sells what is in stock which allows for quick, same day shipping. Offering the highest quality products at the most affordable prices in the market, Yandy has become a leader in e-commerce. Yandy works closely with all of the manufacturers they distribute for and hand select all of the items on the Web site to ensure customers have the largest and most diverse collection to choose from. In addition, the customer service team at Yandy is unrivaled. With attentive and helpful operators, should a question or problem arise, the customer service team at Yandy is always willing and able to assist. At Yandy, every customer can Be Sexy.