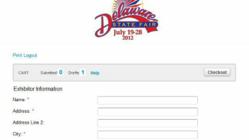 Philadelphia, PA (PRWEB) April 25, 2012
While maintaining its roots in agriculture, the Delaware State Fair has grown to become one of the largest annual state fairs on the east coast. Since the original Fair in 1920, the Fair has grown every single year, boasting attendance figures of over 307,000. The nine-day event features a variety of concerts with some of the most popular artists as well as over 3,240 exhibitors in a wide array of categories.
With such growth, the Delaware State Fair needed assistance in managing its exhibitors. Starting this year, WizeHive will now assist the Fair with its exhibitor application process. Home entrants can apply and submit their photo through WizeHive online submission manager and make any necessary payment. The process of judging and accepting home entrant exhibitors will also be made easier through WizeHive's software.
"We're happy to work with Delaware State Fair," says WizeHive CEO, Mike Levinson. "The WizeHive platform had all of the features needed to handle the exhibitor applications, it is a really good fit."
The Delaware State isn't the only large scale event that uses WizeHive. Organizations including CEA, producers of the Consumer Electronics Show and Houston Livestock Show and Rodeo, have used WizeHive for contests, awards, and managing the intake and review of applications.
About WizeHive
WizeHive offers a cloud-based platform that automates an organization's forms, workflows and business processes. These tools have been used to automate contests with WizeHive's Online Contest Software; scholarships with WizeHive's Scholarship Management Software; sales processes and more.