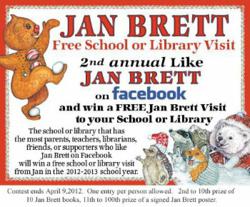 Philadelphia, PA (PRWEB) January 11, 2012
New York Times #1 bestselling and beloved children's author/ artist, Jan Brett, launched her second annual Facebook contest through Wizehive's Online Contest Manager; . The online contest encourages parents, teachers, and librarians to enter to win a school or library visit from Brett during the 2012-2013 school year.
Jan Brett's use of social media is a case study worthy example of connecting directly with fans. Within an hour of opening, the contest had already accrued hundreds of entries. Tens of thousands of entries are expected by the time the contest ends on April 9, 2012.
"With over 37 million books in print, Jan Brett knows how to engage her audience," says Mike Levinson, WizeHive CEO. "It isn't about running a contest solely to acquire more Facebook Fans, but rather giving your audience something they really want. This is why Jan Brett's contests are so successful."
About WizeHive
WizeHive offers a cloud-based platform that automates an organization's forms, workflows and business processes. These tools have been used to automate contests with WizeHive's Online Contest Software; scholarships with WizeHive's Scholarship Management Software; sales processes and more.
About Jan Brett
With over 37 million books in print, Jan Brett is one of America's most popular children's book artist/ authors and has brought to life lovable characters and imaginary backdrops for millions of children for more than 30 years. Her popularity among preschool and elementary school youngsters, their teachers, and parents is unmatched.
While Brett is most known for her children's books, she is also an award-winning breeder of ornamental fowl (fancy chickens!). Some of her best book ideas come from other interests including extensive travel, marathon training (she is a seven-time Boston Marathon runner benefitting the MS Society), and being a member of the Boston Symphony Orchestra's Board of Trustees.
Jan Brett lives in Norwell, MA
For more information about Jan Brett and all of her books, please visit janbrett.com
For interview requests, please contact: Rhalee Hughes
rhalee hughes public relations + marketing
212.260.2244 or rhughes(at)rhalee(dot)com
For information on contests through WizeHive, please contact:
Jeff Thomas,
215.259.8299 or jeff(at)wizehive(dot)com
###