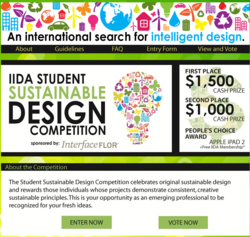 Philadelphia, PA (PRWEB) November 08, 2011
Online applications are now open for students interested in IIDA Student Sustainable Design Competition. The competition, sponsored by Interface FLOR, rewards students whose projects demonstrate consistent, creative sustainable principles. It is an opportunity for students to be recognized for their fresh ideas.
To collect information, IIDA Student Sustainable Design Competition started using WizeHive's Application Management Software. With WizeHive, IIDA Student Sustainable Design Competition was able to build custom online forms to accept contest submissions online. The submissions received will enter an online voting period from November 1 until November 27, all managed through WizeHive's secure online voting portal.
"It is interesting and inspiring to see the ideas that students have around sustainable design," says WizeHive CEO, Mike Levinson. "As the submissions are online, it's easy to vote and share on your favorite submission. We are looking forward to seeing which submissions garner the most attention from the public."
"The IIDA Student Sustainable Design Competition gives Interior Design students an opportunity to showcase their creative talent for a chance to demonstrate their skills, be recognized on a public platform and win cash prizes," says Jeanne Fisher, Senior Director, Communications and Marketing, "WizeHive helped us to broaden our reach in attracting interested participants, as well as public voting action to determine a crowd favorite."
About WizeHive
WizeHive offers a cloud-based platform that automates an organization's forms, workflows and business processes. These tools have been used to automate contests with WizeHive's Online Contest Software; scholarships with WizeHive's Scholarship Management Software; sales processes and more.
About International Interior Design Assocation
The International Interior Design Association (IIDA) is a professional networking and educational association with more than 13,000 members practicing worldwide in more than 50 countries. IIDA is committed to enhancing the quality of life through excellence in interior design and advancing interior design through knowledge, value and community. IIDA advocates for interior design excellence; nurtures a global interior design community; maintains high educational standards; and supports its Members and the Profession with visionary leadership. Additional information is available on the IIDA website at http://www.iida.org.
###