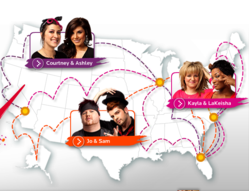 Philadelphia, PA (PRWEB) November 16, 2011
The 2012 Spread the Love Program is for six recent beauty school graduates to travel across the country, connect with stylists, learn about the industry and blog of their adventures.
20 finalists will come to New York City, 18 have been selected by the judges, Stylists across America will decide who will fill the two remaining spots. Stylists and beauty students voted through Wizehive's online contest manager to have their say in who should be a part of Spread the Love 2012. The voting process included watching videos uploaded from each semifinalist. The two candidates with the highest number of votes will be among those chosen by a panel of judges to fly to New York for the final interview, and be one step closer to the journey of a lifetime! Voting from stylists ended November 15th.
"It's like American Idol for hair stylists," says Mike Levinson, WizeHive CEO, "The winning stylists will be blogging about their adventures over the next year and we think it's a great idea to start building up that blogging audience by getting stylists involved in the voting process."
Spread the Love is a way of sharing the pride, passion and love Matrix has for hairdressers everywhere. While only stylists can vote, everyone can keep an eye on the Spread the Love campaign. Follow the six recent beauty school graduates on the journey of a lifetime as they travel state to state, salon to salon and event to event, exploring the country, connecting with stylists and learning the ins and outs of our industry. Each week, the three teams will be visiting and working with different salons in different cities, attending shows and taking in everything that makes the hairdressing industry amazing. They'll learn new technical skills, salon business practices, and all the special ways salons touch their communities.
"Spread the Love is a program that not only inspires and celebrates stylists and beauty school students, but touches lives across the country," says Yaniv Shapira, Director, Haircare & Styling, Matrix.
Be sure to see what the Spread the Love salons are up to! Over 50 salons across the country will share their experiences, successes and ideas on the Spread the Love salon blog.
About WizeHive
WizeHive offers a cloud-based platform that automates an organization's forms, workflows and business processes. These tools have been used to automate contests with WizeHive's Online Contest Software; scholarships with WizeHive's Scholarship Management Software; sales processes and more.
About Matrix
Matrix was founded in 1980 by the American husband and wife hairdressing team, Arnie and Sydell Miller. The Millers wanted to provide hairdressers with a comprehensive range of products that would help them grow their businesses and provide the means to take full advantage of their talent and creativity. Now, over two decades later, their original ideas still stand strong and Matrix is committed to the development of the salon professional and offers a wide range of hair care, hair color and hair texturizing products.
###