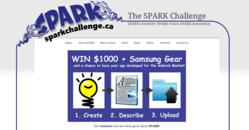 Philadelphia, PA (PRWEB) March 21, 2012
The SPARK Challenge aims to inspire young people to start Sharing Possibilities for Applications in Research and Knowledge, by asking them to come up with creative and original ideas for applications that would operate on Android smartphones and tablets. The SPARK Challenge is an innovative partnership initiative between Samsung Canada and the University of Toronto, represented by the Institute of Communication, Culture and Information Technology (ICCIT) and the Knowledge Media Design Institute (KMDI).
The first Round of the online contest finished December 30, 2011. Round one was open to all high school students in the Greater Toronto Area (GTA). It was designed to have a low barrier to entry – students weren't expected to be tech savvy in order to enter; all they needed was a great idea.
Students stepped up to the challenge and submitted 45 entries, ten of which made it to the final judging round. Experts in the field – including a Samsung representative, a local IT professional, professors from the University of Toronto, and Nora Young from CBC Radio One's Spark – met to assess the top ten entries and decide on the winners.
Taking home first prize were Ted Schreiber and Milan Crnjanski with "MusiCube," a music recording and translating app, which would enable the user to record loops of music and arrange them into a song. Second prize went to Tyler Soares, David Klara, Justin McConnell, and Steven Megaffin, who submitted the "Community Service App," to assist high school students in finding placements to complete the required 40-hours of community service. Kelsi Smirlies nabbed third prize with the "Kids Help Phone Chat," an instant messenger application that would immediately connect distressed youth with a counselor.
The creativity and originality of the entries prompted the delivery of Round Two of the SPARK Challenge – now geared toward post-secondary students in the GTA. This round expects a bit more technical capability from entrants, as submissions are required to be fully functioning Android applications. Students are invited brush up on their tech skills at an Apps Workshop, to be held on March 24th at Thing Tank (36 Bathurst Street) in Toronto. Students can submit their apps at sparkchallenge.ca through Wizehive's contest software, up until April 9, 2012.
About WizeHive
WizeHive offers a cloud-based platform that automates an organization's forms, workflows and business processes. These tools have been used to automate contests with WizeHive's Online Contest Software; scholarships with WizeHive's Scholarship Management Software; sales processes and more.