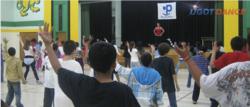 (PRWEB) February 06, 2012
UGOT DANCE, an organization that encourages physical activity and healthy living in children, has announced a video dance contest where entrants can show off their best dance moves. The video contest is a fun way for young dancers to show off what they've learned, while celebrating an active lifestyle.
Interested participants are asked to record themselves and go to http://www.ugotdance.com to upload the video with some help from their parents or school supervisors. Entries are open until June 1, 2012. Children ages 4 through 14 from anywhere in Ontario are allowed to enter. There are two categories, one for individuals and one for school groups.
"The UGOT DANCE video contest encourages young people to have fun while teaching them about healthy living," says Mike Levinson, WizeHive CEO. "We are inspired by the different styles of contests people run on WizeHive and can't wait to see the videos entered."
"We are on a mission to get children active and this dance contest will help make this happen," says G. Randall Munger, founder of UGOT DANCE. "Producing the video entry can be a fun family project. Children will create and perform their own dances while family members will do the filming and editing. Winners, as determined by popular vote, will each receive a prize package including a guest spot on the UGOT DANCE Web TV Award Show and free dance classes for their school (up to $750 value), amongst other prizes. This a great opportunity for children to showcase their dance talent, and to get families and schools to support them."
All entries must be submitted by June 1, 2012. Entrants, their family, friends and schools are encouraged to vote every day on their favorite video.
About WizeHive
WizeHive offers a cloud-based platform that automates an organization's forms, workflows and business processes. These tools have been used to automate contests with WizeHive's Online Contest Software; scholarships with WizeHive's Scholarship Management Software; sales processes and more.
About UGOT DANCE
UGOT DANCE is part of the UGOT Education Group. UGOT is a socially progressive organization founded in January 2008 to provide children and youth with enrichment programs designed to encourage and promote physical activity, healthy living, creativity and intellectual advancement. UGOT DANCE is the first of the company's programs with additional programs in development including UGOT MAGIC and UGOT NATURE.
###