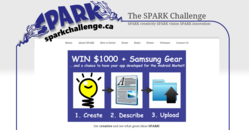 (PRWEB) November 23, 2011
The SPARK Challenge aims to inspire high school students in the Greater Toronto Area (GTA) to start Sharing Possibilities for Applications in Research and Knowledge. If students have creative and innovative ideas for applications that they want to see running on smart phones or tablets, the SPARK Challenge wants to see them! SPARK challenges students to draw, scribble, or otherwise articulate their great idea for an Android application – the app could promote sharing, organizing, collaborating, or communicating, or it could fill a void in the Android Market.
From now until December 30, high school students are encouraged to enter an idea for an Android app as an individual or as part of a team. The app should fall into one of three categories: education, business collaboration, or social responsibility. The entries must include an image and a description of how the app would work, but do not need to be technical. Entries are accepted and viewed through WizeHive's online contest manager.
"Getting high school students to think creatively about mobile technology encourages them to consider career opportunities they might not have thought of before," says WizeHive CEO Mike Levinson. "As a startup, we love seeing students learning about entrepreneurship and innovation."
"Increasingly we are seeing that students require and seek more experiential learning. We are immensely pleased to present the SPARK challenge to encourage students, both techies and non-techies, to think about creating apps for the Android Market that support business collaboration, knowledge transfer and approaches to social responsibility." Anthony Wensley, Director, Institute of Communication, Culture, Information and Technology (ICCIT) at the University of Toronto, Mississauga.
About WizeHive
WizeHive offers a cloud-based platform that automates an organization's forms, workflows and business processes. These tools have been used to automate contests with WizeHive's Online Contest Software; scholarships with WizeHive's Scholarship Management Software; sales processes and more.
About SPARK
The SPARK Challenge is a partnership initiative between Samsung Canada and the University of Toronto, represented by the Institute of Communication, Culture, Information and Technology (ICCIT) and the Knowledge Media Design Institute (KMDI). The goal of the contest is to encourage students to think about how technologies may be used for social engagement, collaboration and knowledge dissemination. The contest is intended to have a low barrier to entry – students don't have to be tech savvy to enter; just have a good idea. Although this is the inaugural year of the SPARK challenge, it is hoped that it will evolve into a yearly competition for high school and post-secondary students.
###