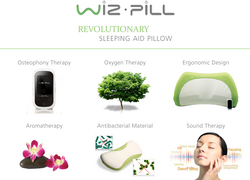 Left untreated, insomnia is linked to increased illness or morbidity. There is a wealth of research indicating that people with insomnia have poorer overall health, more work absenteeism, and a higher incidence of depression
New York, NY (Vocus) November 3, 2010
WizPill, the newest, most advanced sleep aid pillow, utilizes scientific and medical research in a way never before seen in the U.S. market. Through a multitude of sleep encouraging features such as bone conduction transducers, sleep-inducing sound waves, music therapy, oxygen therapy, and ergonomic design, Wiz Pill's exceptional innovations promote a healthier way of living for US population.
Recent studies show that approximately half of Americans and Europeans suffer from insomnia, which is clinically defined as difficulty getting to sleep or staying asleep, or having non-refreshing sleep for at least one month. Symptoms include, difficulty falling asleep on most nights, feeling tired during the day or falling asleep during the day, not feeling refreshed upon awakening, and waking up several times during sleep. People who have insomnia tend to fixate on their inability to sleep. The more they try to sleep, the greater their sense of frustration and distress, and the more difficult sleep becomes.
"Left untreated, insomnia is linked to increased illness or morbidity. There is a wealth of research indicating that people with insomnia have poorer overall health, more work absenteeism, and a higher incidence of depression," says the National Sleep Foundation. WizPill incorporates a variety of proven scientific techniques to overcome insomnia in a safe, non-toxic, comfortable way.
Sound and Osteophony Therapy: The WizPill is equipped with an MP3 player that can be used in three different ways: headphones, conduction transducers or through a separately sold eye mask that sends sounds through the front of the skull and eyes. An mp3 player built into the pillow can be accessed with earphones. Users can also detach the mp3 from the pillow and use it separately. The mp3 player has sleep-inducing, study-aiding, rest-aiding, concentration-aiding sound modes, so users can choose a song to play in a mode of their choice (whether they are trying to concentrate, sleep, or rest).
Users can also choose osteophony technology, which delivers sound through a special vibration direct to the bones of the skull into the inner ear. By surpassing the outer ear, which is the traditional mode for getting sound to the inner ear, the sound is only loud enough for the user to hear. Bone conduction transducers send sleep-promoting sound waves that help deliver an uninterrupted, high-quality night's sleep. WizPill Supports different brainwaves functions such as meditation rest, learning, focusing, good sleep, sweet sleep and overcoming sleepiness.
An innovative eye mask, which uses osteophony by transmitting sound directly to the front of the skull through eyes, can be added to the pillow at extra cost. Sound transmission through the front of the skull is more effective at inducing deep sleep than through the back of the skull, which happens when laying on the pillow.
Oxygen Therapy: The WizPill also incorporates oxygen therapy to provide a more refreshing sleep by releasing fresh, clean oxygen into the air. Accourding to the Rotech Healthcare Inc., Using oxygen when appropriate can help lengthen life, improve activity, improve mental skills, decrease respiratory symptoms, decrease hospital visits, improve quality of life and help people with respiratory challenges to Breathe Easy. Many do not realize the lack of oxygen that the body experiences during sleeping hours. The oxygen level in the forest is on average about 21.3%, the oxygen level in a big city is 20.8% and the oxygen level indoors during sleeping hours is close to 19%. During sleep, oxygen content decreases while carbon dioxide increases due to lack of circulation in the air.
"Of all the essential nutrients needed by the human, oxygen is the one we must have on a moment to moment basis. We can't live without it even for a few minutes, yet, this is the one nutrient most people don't associate with deficiency problems. Nothing could be further from the truth. Oxygen deprivation can be associated with all kinds of chronic diseases, including cancer," says Raymond Francis, Director, Beyond Health Corporation.
Wiz Pill incorporates an oxygen generator inside the pillow to create clean, clear oxygen and guarantee a more refreshing night's sleep. Its innovative design facilitates air circulation as air is pumped when the head moves on the pillow. This extra circulation also cools down the head to reduce head and sweat during sleep. Oxygen therapy has been a common practice for years with hospital and home health patients, now it is available for every consumer who uses WizPill. "I never knew that the air I breathe while asleep had that big of an impact on how I feel when I wake up. The oxygen feature really makes me feel much more energized in the morning, and I'm really pleased with the results," said satisfied customer, James Vallas.
Ergonomic Design: Without a high level of comfort, deep and healthy sleep can be very difficult to accomplish. WizPill's ergonomic design works with the basic mechanics of the human form to cradle the body into a peaceful slumber. It also protects against cervical vertebral and relieves snoring by keeping the airway open.
Aromatherapy Benefits: According to Healthcare Information Directory, aromatherapy is known to be effective in relieving emotional and mental distress by acting directly on the nervous system, diminishing states of depression and anxiety. By incorporating aromatherapy into the WizPill, users feel full an uplifting, painless and relaxed frame of mind, which helps improve physical wellbeing, reduce stress and anxiety, and strengthen the immune system.
Antibacterial Material: A pillow is a common habitat for dust mites and bacteria that cause allergic reactions and diseases as asthma, rhinitis, conjunctivitis, atopic dermatitis. WizPill incorporates a futuristic antibacterial material for the pillow that fights bacteria. Its ability to circulate air and add oxygen to the room also controls body temperature, which reduces moisture, often a cause of bacteria.
Sleep plays a vital role in the body's overall well being, an adequate amount of quality sleep helps ensure that the body can perform to its maximum potential on a daily basis. According to the National Sleep Foundation, "To get the most out of our sleep, both quantity and quality are important. If sleep is cut short, the body doesn't have time to complete all of the phases needed for muscle repair, memory consolidation and release of hormones regulating growth and appetite. Then we wake up less prepared to concentrate, make decisions, or engage fully in school and social activities."
The makers of WizPill fully understand that the body has a strong need for sleep that must be met in order to live a healthy lifestyle. "We have taken every step possible to ensure that our customers get to enjoy the quality sleep that they have always wanted. Through the multitude of features that Wiz Pill offers, we feel confident that this pillow will revolutionize the way the world sleeps," said Bong-Cheol Shin, the CEO of Wiz Pill.
The company's sample products are available upon request in New York. For more information please contact Ksenia Denisova at MZI Global at 212.366.5409.
The philosophy of the company is to produce quality products which Can be produced of maximize the customer's satisfaction and also pursue the environment friendly management oriented toward the futuristic management policy. WizPill produces a perfect quality product by researching the technologies and better materials and conducting quality control, thus giving the best satisfaction to its consumers. The ultimate idea of WizPill is to meet the customer's demand. To touch customer minds WizPill will hear their advice and opinions and reflect them to the products.
MZI Global is a market entry strategy consultancy firm based in New York City serving international inbound clients entering North America and outbound US companies expanding to global markets. MZI Global¹s Ethnosynergism® network of relationships includes local and foreign governments across 10 + cultures and languages with 1000+ companies. From strategy to implementation, MZI Global is a ³deal maker² focusing on cost-effective market entry on a global scale.MZI Global¹s clients include public sectors and foreign governments representing some of the leading economies in the world, including ECO - GREEN Asian suppliers across 17 industries such as; cosmetics and beauty supply, food and beverage, furnishings, technology and more.
Through a central contact point, MZI Global enables the U.S. supply chain to deal with one resource who understands U.S. corporate needs, while introducing innovative products from international markets like Korea and Asia. With full support of the SBC Korean exporting agency and its trade association, South Korean companies are becoming trusted partners for U.S. buyers. Hundreds of new South Korean products can be sourced via the MZI Global network. MZI Global is the ultimate resource for South Korean products.
Under the leadership of president and CEO Mira Zivkovich, recipient of the 2007 Ellis Island Medal of Honor, MZI Global puts its international, multicultural marketing expertise to use through strategy development and implementation for US ethnic markets. Learn more at http://www.mziglobal.com.
###