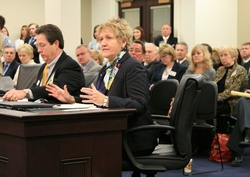 Versailles, KY (Vocus) February 3, 2010
West Kentucky Community and Technical College (WKCTC) will testify today before the House Standing Committee on Education, and on Thursday before the Senate Standing Committee on Education to discuss the critical role community and technical colleges are playing in increasing the college-going rate among at-risk high school students.
Testifying will be the president of WKCTC, Dr. Barbara M. Veazey, along with Dr. Steve Freeman, WKCTC vice president of institutional development, as well as Commonwealth Middle College (CMC) principal Donna Wear. Two CMC students will also testify on each day. The focus will be on the important role of the middle college on the WKCTC campus. CMC allows students to take core high school classes while taking college classes. The students remain enrolled at their high school, but take all their classes on the WKCTC campus. The college courses are tuition free.
When students complete CMC, they receive their high school diploma as well as at least 36 college credit hours. Four high school juniors from Marshall and McCracken counties who participate in CMC will be among the delegation present at the Kentucky legislature this week.
The St. Louis-based Lay Family Foundation donated $620,000 in April 2008 to establish the Middle College at WKCTC. Officials from McCracken and Marshall County public schools joined forces with Paducah Junior College, Inc., the foundation of WKCTC, the Lay Family Foundation, and WKCTC to develop and implement the unique initiative.
In the fall 2009, more than 90 students applied for the 50 seats in the program. Students were selected from Marshall and McCracken county high schools. Students have the opportunity to complete a minimum of 36 college credits tuition free – saving as much as $5,000 per student.
Wear, a 30-year veteran educator, said the students have come to CMC with "a strong desire to be successful, a work ethic that was not being fully challenged, and hearts filled with ambition that was not being tapped."
Every year, the Kentucky Community and Technical College System provides real opportunity to real people—transforming the economy of the entire state by transforming the lives of the people who live in it. Help us continue transforming lives in our state's economy by joining the Kentuckians for Community and Technical Colleges at kctcs.edu.
###