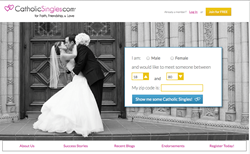 (PRWEB) August 31, 2015
CatholicSingles.com will be exhibiting at this year's World Meeting of Families in Philadelphia in anticipation of Pope Francis' visit to the East Coast this September. "We are very excited to be a part of the Philadelphia conference, and with this being the Pope's first visit to the United States we know this will be very special!", says David Nevarez founder of CatholicSingles.com.
During the conference Catholic Singles will be sponsoring several events including a walking tour of the city, a dating event and more. Single Catholics can follow them on Twitter.com/CatholicSingles and Facebook.com/CatholicSingles for more information.
CatholicSingles.com® is the original online site for Catholic dating and fellowship. Founded in 1997 by practicing Catholics, founder David Nevarez met his wife on the site and they have appeared together many times on Catholic programs including EWTN, Telecare TV and SiriusXM's The Catholic Channel. David and his wife Tricia recently celebrated their 4th Wedding Anniversary this past July and are available for interviews.