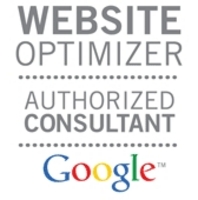 Staying one step ahead is our goal, and this recent authorization by Google Website Optimizer shows that we are forerunners in the industry.
Denver, CO (PRWEB) May 21, 2008
Location3 Media was recently named a Google Website Optimizer™ Authorized Consultant, one of just 13 worldwide. In addition to being authorized in landing page optimization, SearchAdNetwork, Location3 Media's search marketing division, is authorized in PPC management as a Google AdWords Professional (GAP).
"When we first got started in this space, we were the twenty-third company to receive GAP status. Now there are hundreds," says Alex Porter, vice president of Location3 Media. "Staying one step ahead is our goal, and this recent authorization by Google Website Optimizer shows that we are forerunners in the industry." Google Website Optimizer (GWO) is a website-testing tool that helps advertisers improve conversion rates by determining the best layout and content for their website. GWO eliminates the guesswork in web design by providing performance data on two or more versions of a landing page.
As a Website Optimizer Authorized Consultant, Location3 Media offers every level of support for post-click optimization n through the GWO system -- from simple training and consultation to comprehensive development, implementation and analysis. "GWO has only recently released out of beta, and we're pleased to have been working with it since infancy," says Porter. "It has been an amazing tool for our clients, and we look forward to being an Authorized Consultant so that we can learn how to get the most of it." This authorization is just one more way that Location3 Media can provide high-quality, comprehensive service for their clients.
Check out Location3 Media on Google Website Optimizer's Authorized Consultants page: http://www.google.com/intl/en/websiteoptimizer/partners.html. To learn more about Location3's landing page optimization services, contact Angie Pascale at 720.881.8528 or apascale @ location3.com.
Google, Google Website Optimizer and Google AdWords are trademarks of Google Inc.
About Location3 Media:
Location3 Media, Inc. is a technology-driven direct marketing company that delivers internet marketing solutions for business targeting customers on local to global scales. Founded in 1999, Location3 Media is now parent to three specialized companies: SearchAdNetwork, an award-winning search engine marketing company with years of PPC management and SEO experience; Local Search Traffic, a local search solution that manages local map listings on the leading search engines, directories and internet yellow pages; and Hispanic Targeting, a full-service Hispanic search marketing solution dedicated to targeting the Hispanic population through each of the leading search engines. Location3 Media boasts a full roster of experienced and knowledgeable team members, well-versed in several specialties: account management, information technology, software programming, graphic design, website design, sales, accounting and finance, copywriting and office administration.
###