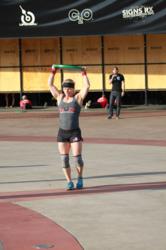 "The addition of WODSuperStore.com as a sponsor to my current relationship with Reebok will allow me to commit the necessary time, in and out of the gym, to reach my goals," said Conzelman
Naples, FL (PRWEB) May 09, 2013
WODSuperStore.com announces their recent sponsorship of CrossFit® Games athlete, Becky Conzelman. The sponsorship will carry through the beginning of 2014.
The partnership will allow WODSuperStore.com to be exposed to a growing number of athletes who participate in CrossFit® and will also provide support for an athlete like Conzelman to pursue her passions within the sport. As the sport grows, the competition becomes better, and requires increasing daily commitment to excel in the sport.
"The addition of WODSuperStore.com as a sponsor to my current relationship with Reebok will allow me to commit the necessary time, in and out of the gym, to reach my goals," said Conzelman. "As the sport and level of competition grows, so does the time commitment and need for this kind of solid support from a sponsor to succeed."
Billy Doherty, Director of Marketing at WODSuperstore.com, explained, "As part of our goal to support the community, we are looking to work with athletes who are pursuing their passions within the sport. Becky is not only a world-class athlete, but also the type of person whose personal values align with our brand. We feel it's a true win-win!"
About WODSuperStore.com
WODSuperStore.com is the premier online provider of gear and apparel. WOD is a common term, meaning workout of the day. Leveraging relationships with over 50 vendors and economy of scale, they bring together the best products and brands for passionate athletes who participate in CrossFit® everywhere with the best customer service in the industry by offering a $4.99 flat rate shipping fee to the US and a 365 -day, free return policy.
CrossFit® is a registered trademark of CrossFit, Inc. and no endorsement or association is implied.